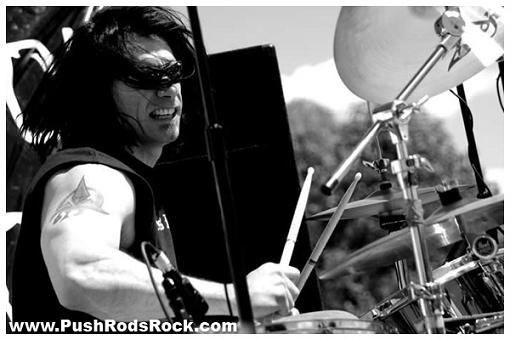 We are in for a real treat! After much begging and pleading we got an interview with Tim "The Crow" (ala Brandon Lee's "The Crow"), the drummer from our favorite Porn Punk band – The PushRods. If you haven't seen a PushRods show you don't know what you are missing. Shows involve scantily clad girls in Vinyl Skirts gyrating on stage, high intensity punk rock music and sometimes live Fire-Breathing!
If you want to checkout Crow's drum gear setup, Click Here
UberProAudio: Tim, thanks for the interview. So we hear that you guys are in the recording studio working on a new album. How's it going?
Crow: we are kicking major ass in the recording studio!!
UberProAudio:  How will the new album compare to the past album?
Crow: We are working with a producer this time out, so it is professionally produced and will get shopped to labels and distributors.  The last was a self-produced demo, which, by the way got us to this level.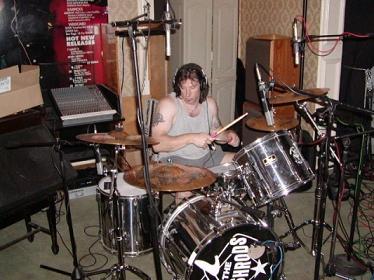 UberProAudio:  So tell us, what is "Porn Punk" all about?
Crow:  Woman, Sex and just a lot of fucking FUN!!!!
UberProAudio:  One of your tracks is featured in a porn film soundtrack. Tell us how that came to be.
Crow: Actually believe it or not I got in contact with Misty thru myspace.  She loved our material and offered to put us on her next DVD.
UberProAudio:  What's on the band's future agenda? Record-labels…..shows….movies….?
Crow: Right now we are concentrating on getting the new CD finished, we just finished mixing the first song "Dead Girl" which will featured on the soundtrack for a horror movie entitled "BabyDoll".  We are looking into playing some shows in Canada, FL NYC, Detroit, Cleveland, Pittsburgh all over the East Coast and possible distribution with Fast Music.  So we have a lot on the table once the new CD is released.
(Click next below to go to page 2 of the interview)
UberProAudio:  Now that we talked about the band a bit, let's get into some fun stuff. So what's it like being a rockStar….and having the babes cheering for you every show?
Crow:  I wish I knew what it is like to be a rock star lol there is nothing like seeing some Hot babes totally getting into what  you are doing on stage.  It is definitely one of the perks for all the hard work (no pun inteneded)
UberProAudio:  When did you decide you wanted to be a rockStar? Why?
Crow: the first time I performed onstage where people were singing along to our original music.  There is no feeling like it.  You lose sense of anything else, it is the biggest high ever !
UberProAudio:  Have you played any good pranks on the other guys in the band or vice versa?
Crow:  One night at a big after show party Ron was chasing Squirrels thru the woods with a real sword, later when he was passed out we put lip stick all over his face ... not really a prank but the same night Ritchy poured Bacardi all over his sleeve and set it on fire!!!!  and we all stood around holding beers going "wow ..."  as Ritchy was trying to put it out.
Fire Breathing at a PushRods show: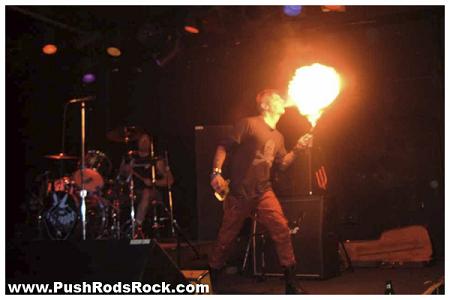 UberProAudio:  Why do they call you "The Crow"?
Crow: the movie "the Crow" starring Brandon Lee is my favorite movie,  I have 4 tattoos themed from the movie and I always dress as Eric Draven for Halloween.  Ritchy started introducing me as "Creepy Crow" and it just kind of stuck.
UberProAudio:  How often do you practice the drums?
Crow: right now almost every day because I have to rehearse the songs for recording.  I have to be able to play the songs from start to finish without any guitars or vocals.
UberProAudio:  Is the drummer really the meathead in the band?
Crow: in most bands yes but not this one !!!!!   I book shows, update website, myspace and do all the business work.  playing the drums is the easy part.
UberProAudio:  The word is T&A. You can only choose one, T or A. What do you choose?
Crow:  That's a tuff one, because I love a good set of T and a nice A... I like both very much !!!!!!
UberProAudio:   Sex, drugs and Rock N' roll. Which one can't you live without?
Crow: damn these questions are hard ... Rock N' Roll first and then just less than a pubic hair away is Sex!!! The only reason Rock N' Roll is first is because without that I wouldn't be having SEX!!!
UberProAudio:   Any advice to our readers who want to be big masculine rockStars like you?
Crow:  Keep playing and stay dedicated!!!
UberProAudio:   Thanks again man, and make sure to keep us posted with how things are going!

Check out the PushRods at http://www.myspace.com/pushrodsrock. Buy one of their albums and truly get the Porn Punk rock Experience!