One of our favorite drummers (and close friend) is porn-punk band, The PushRod's , Crow. Crow brings charisma, awesome technique and thunderous power to the signed band's live stage show and studio recordings. We were lucky enough to get in touch with Crow to find out about the drum gear he uses to create the PushRod's sound. This info is straight from Crow's mouth- ÜberProAudio.com brings you the info no one else can!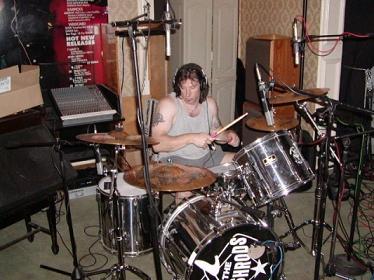 Click the gear images below for more info and specs at Guitar Center

ÜberProAudio.com: What drum kit do you use?
Crow: I use Pearl Export series I bought new back in 94'. Its chrome, mirror like finish.  A very rare finish.  I get
compliments on it all the time. It's a 7 piece double kick kit (I bought it when i was playing metal) but I only use 4 drums ( bass, ride, floor, snare). I use the other half for practice sessions



ÜberProAudio.com: What cymbals do you use?
Crow: I have a set of Zildjian "Z" custom 14" hi-hats, 17" medium crash, 18" medium crash, and 22" Mega Bell ride.

ÜberProAudio.com: What sticks and other gear do you use?
Crow: I use Vater Rock nylon tip sticks.
Pearl Powershifter Elminator double pedal dual chain
Rock n Soc throne
ÜberProAudio.com: Any reason you use what you use?
Crow: I love the Pearl Export series drums:  for the price and quality you can't beat it.
Vader sticks take a fucking beating from me before they finally submit and break
I love the Powershifter pedal because it has the interchangable shafts for different styles of playing
the most important piece of gear is my Rock n Soc throne !!  My ass has to be comfortable for the abuse
I indure on the kit and a comfortable ass is a happy ass !!!