Page 1 of 2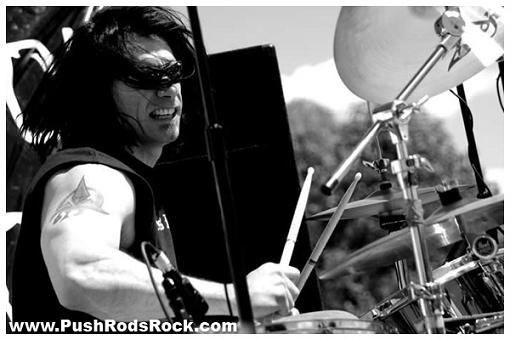 We are in for a real treat! After much begging and pleading we got an interview with Tim "The Crow" (ala Brandon Lee's "The Crow"), the drummer from our favorite Porn Punk band – The PushRods. If you haven't seen a PushRods show you don't know what you are missing. Shows involve scantily clad girls in Vinyl Skirts gyrating on stage, high intensity punk rock music and sometimes live Fire-Breathing!
If you want to checkout Crow's drum gear setup, Click Here
UberProAudio: Tim, thanks for the interview. So we hear that you guys are in the recording studio working on a new album. How's it going?
Crow: we are kicking major ass in the recording studio!!
UberProAudio:  How will the new album compare to the past album?
Crow: We are working with a producer this time out, so it is professionally produced and will get shopped to labels and distributors.  The last was a self-produced demo, which, by the way got us to this level.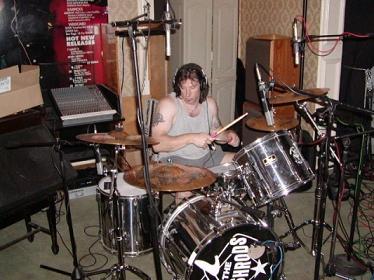 UberProAudio:  So tell us, what is "Porn Punk" all about?
Crow:  Woman, Sex and just a lot of fucking FUN!!!!
UberProAudio:  One of your tracks is featured in a porn film soundtrack. Tell us how that came to be.
Crow: Actually believe it or not I got in contact with Misty thru myspace.  She loved our material and offered to put us on her next DVD.
UberProAudio:  What's on the band's future agenda? Record-labels…..shows….movies….?
Crow: Right now we are concentrating on getting the new CD finished, we just finished mixing the first song "Dead Girl" which will featured on the soundtrack for a horror movie entitled "BabyDoll".  We are looking into playing some shows in Canada, FL NYC, Detroit, Cleveland, Pittsburgh all over the East Coast and possible distribution with Fast Music.  So we have a lot on the table once the new CD is released.
(Click next below to go to page 2 of the interview)