Page 1 of 2
Zakk Wylde is not only the founder of the band Black Label Society and guitar player for Ozzy Osbourne's band, he also is the man behind that cool bullseye Gibson Les Paul we've all seen gracing the pages of our favorite gear mags. Let's take a look at the gear and equipment that Zakk' has been seen using in his guitar rig.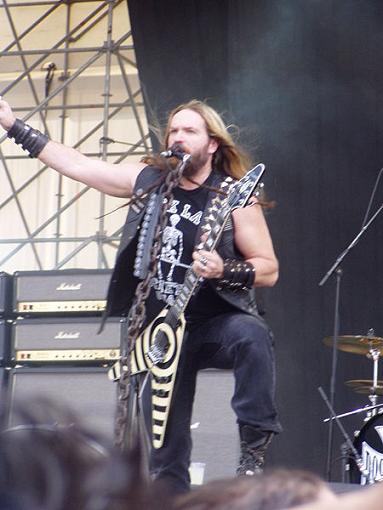 Click the gear images for more info and specs at Guitar Center and Amazon

Guitars
- Gibson Les Paul Customs with "Bullseye" Graphics (Black/Mirrored, Red/Natural, Black/Vintage White)

- Gibson "Buzzsaw" Les Paul Custom (the design was taken from that of a Zippo lighter)
- Gibson "Black Label Society" Les Paul Custom
- Gibson "Rebel" Les Paul Custom decorated with the confederate flag and bottle caps
- Gibson Zakk Wylde Vertigo Les Paul Custom Electric Guitar
- Gibson "Camo Bullseye" Les Paul custom. He named it 'Stormin Norman'

- Epiphone Zakk Wylde Bullseye Les Paul Custom Plus Electric Guitar
- Jackson Rhoads (Custom Made for him by the same luthier that built Randy's guitars to the exact same specifications
- Dean Bulls-eye Razorback (Given to him by Dimebag Darrell days before his death and signed by him; this guitar is usually only seen once a performance, when Zakk is playing the song "In This River")
- Gibson Flying V with a bull's eye paint design

- Gibson / Epiphone Zakk Wylde ZV Custom guitar

- Epiphone Graveyard Disciple (new in 2009)
- GMW Randy Rhoads Flying V in white with black polka dots
- GMW Randy Rhoads Flying V in black with white polka dots (the polka-dot guitars were made custom for Zakk in honor of Randy Rhoads. Both of these guitars also feature a Floyd Rose tremolo.)
- Gibson EDS-1275 with EMG pickups (seen in the music video for "In This River")

- Dean "Muddy Bullseye" Splittail with Bullseye Graphics
- Custom Gibson guitar made similarly to the Dean "Muddy Bullseye" Splittail with bullseye graphics
- Gibson EDS-1275 (white with gold pickups) used for "Mama I'm Comin' Home" live with Ozzy Osbourne. (can be seen in Osbourne's "Live At Budokan" DVD)
- Alvarez Yairi acoustics
- Gibson Dove Acoustic

- Gibson Chet Atkins
- Epiphone Masterbuilt acoustic guitars (The Song Remains Not the Same)
Strings, Picks and Pickups
- Dunlop Zakk Wylde Signature strings (.010 to .060 gauge)

- Zakk Wylde Active EMG 81 and EMG 85 pickups

- Dunlop Ultex Sharp .90 picks

- Dunlop Zakk Wylde Icon Series Phosphor Bronze Light Acoustic Guitar Strings

- GHS Zakk Wylde Boomers Electric Guitar Strings
Amplifiers
- Marshall JCM-800 2203 amplifiers
- Signature JCM800ZW Amp with replaced tubes (GT 6550) and cabinet loaded with EVM12L-Black Label guitar speaker
- Marshall Zakk Wylde MG15MSZW Limited Edition Micro Stack:
- Marshall 1960TV Cabinet
- Marshall 1960BX Cabinet
- Roland Jazz Chorus (eye witness report at House of Blues and confirmed by Zakk in a 2010 interview)
-  Marshall Bluesbreaker combo amp (on song "Machine Gun Man")

- Lee Jackson Metaltronix Hand Made All Tube Guitar Amp
Effects
- Dunlop MXR ZW-44 Dunlop Overdrive pedal

- Dunlop ZW-45 Zakk Wylde Signature "Cry Baby" wah-wah pedal
- Dunlop MXR m-134 stereo chorus
- Dunlop MXR EVH Van Halen signature phase pedal
- BOSS SD-1 Super Overdrive

- CE-5 Chorus Ensemble
- Dunlop Rotovibe - Dunlop also made a Zakk Wylde Signature Rotovibe
- MXR Black Label Chorus (Announced in 2009)

- Monster Cable
- MXR Wylde Phase pedal

- MXR EVH Flanger pedal
- Dunlop DC Brick
- MXR Carbon Copy pedal
Go to the next page for some awesome Zakk Wylde Guitar Rig Pictures!