Page 1 of 2
Dan Estrin is the guitar player in the American post-grunge band, Hoobastank.

Let's take a look at some of the gear and equipment that has been seen in Dan's guitar rig.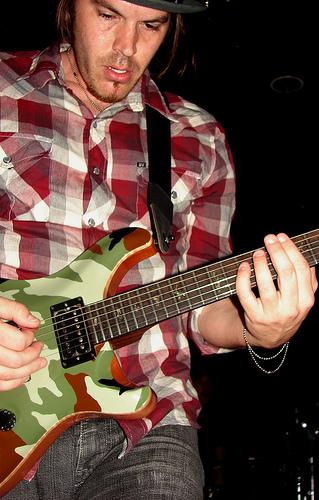 Click the gear images for more info and specs at Guitar Center and Amazon

Guitars
- Gibson Les Paul (flame burst, with white/black zebra style pickups)
- Gibson ES-137 semi-hollow guitar

- Gibson SG (black)

- Paul Reed Smith PRS Custom 24 (he has a blue, orange, and a camo PRS's)

- TonePros Patent Issued System II guitar Components (according to TonePros site)
- Music Man Axis Supersport

- PRS Hollowbody II (red)






Amps and Cabinets
- Mesa Boogie Road King amp heads (x2)
- Mesa Boogie 4x12 Cabs
- Digitech Whammy

- Boss OD-20 Drive Zone pedal
- MXR Micro Amp
- MXR EVH Flanger
- Line 6 DL4
- Line 6 Echo Park pedal

- Line 6 FM4

- Line 6 MM4

- Boss RE-20 pedal
- Sweet Sound Mojo Vibe pedal ("Vintage Uni-Vibe" sound)
- DigiTech Jimi Hendrix Experience pedal
- Mesa Rectifier channel switch pedal

Guitar Center reported that Digitech gave Dan some new gear to try (summer 2009):
- Digitech GSP1101

- Digitech RP1000

- Digitech HarmonyMan Pitch Shifter

- Digitech TimeBender

- Digitech Brian May Red Special
- Digitech Stereo Chorus

- Digitech Delay Looper





Picks
- Dunlop Tortex Standard Guitar Picks (orange)




Go to the next page for awesome pictures of Dan Estrin's guitar rig.