Page 1 of 2
Matt Hoopes is the lead guitarist (and backing vocals) of Relient K, a Christian rock band that was formed in 1998. Besides playing for Relient K, Hoopes has also done backup vocals for certain Matthew Thiessen and the Earthquakes songs, and has been a guest guitarist at concerts for the band My Red Hot Nightmare.

Let's look at some of the gear and equipment that has been seen in Matt's Relient K guitar rig.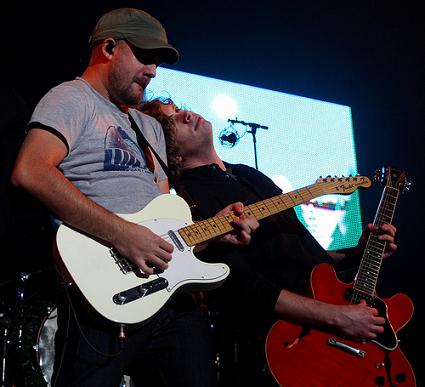 Click the gear images for more info and specs at Guitar Center and Amazon

Guitars
- Fender Telecaster, White with maple neck ('67 Reissue Closet Classic) (67 relic pic below)

- Fender Classic Player Jazzmaster Special

- Gibson Les Paul Goldtop with P90 pickups

- Gibson Les Paul (black)
- Fender Special Edition Jaguar HH (black and chrome)

- Gibson Les Paul Custom, wine red (his has mini humbuckers)

- Fender Tele, black with maple fretboard

- 70s Fender Telecaster Deluxe

- Gibson Hummingbird

- 1962 Silvertone 1420 model (in black)



Amps and Cabinets
- Top Hat Amplifiers (head, Vanderbilt 33) and 2x12 cabinet
- Marshall JMP amplifier head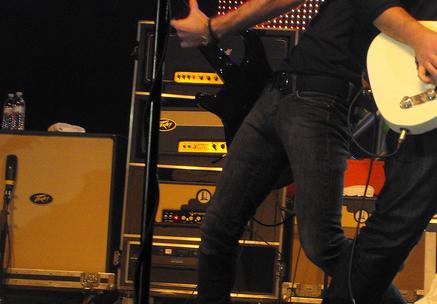 Effects and More
- Earthquaker Devices Ghost Echo Reverb (replaced his Holy Grail Plus)
- Way Huge Swollen Pickle pedal (swapped it out with his Cusack Trap-A-Whirl)

- TC Electronics Polytune (replaced his KORG Pitchblack)

- Zvex Fuzz Factory pedal
- MXR Phase 90 pedal
- Fulltone Full-Drive 2
- Boss TU-2 pedal
- Ernie Ball Volume VP Junior
- Line 6 Echo Park pedal

- Cusack Tap-A-Whirl pedal
- Pedaltrain board (PT-2)

- Cusack Screamer Fuzz
- Fulltone OCD pedal
- Keeley Compressor (4 knob version)
- Diamond Memory Lane pedal
- Electro Harmonix Micro POG
- Electro Harmonix Holy Grail Plus pedal
- Creation Audio Labs MK 4.23 Boost
- Korg Pitchblack tuner
- E-Bow electronic bow

 - Sennheiser e609 mic on cab

Checkout the next page to see awesome pictures of Matt's guitar rig.