Page 1 of 2
Brad Paisley is a Grammy Award-winning American country music singer-songwriter and guitarist. Brad has a very cool guitar rig that has many boutique equipment and gear in it. He is a big user of Dr. z amps, Crook guitars, and a whole host of other guitar gear.

Let's look at some of the gear and equipment that has been seen in Brad Paisley's guitar rig.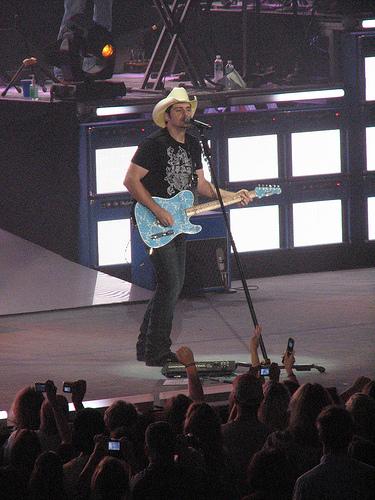 Click the gear images for more info and specs at Guitar Center and Amazon

Brad Paisley's Guitars
- Fender Brad Paisley Signature Road Worn Telecaster Electric Guitar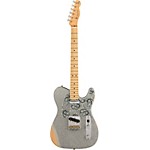 - Crook telecasters (they have a whole line of custom Paisley guitars)
- Gibson Brad Paisley Signature J-45 Acoustic-Electric Guitar

- 1968 Fender 'Ole' Pink paisley telecaster (Lindy Fralin pickups)
- 1952 Fender butterscotch blonde Telecaster (stock pickups)

Notes: His guitars have McVay "G" Stringbenders on them
- Fender strats - his site shows he has a variety of strats -red strat, red burst, sunburst, blue.... Rosewood fretboard.

- Crook Firebird guitar
- Pre-War 1938 Martin D-28 acoustic guitar
- Copley Acoustic guitar
- Music Man Super Sport
- Gretsch hollowbody (appears to be a G6122-1962 Chet Atkins Country Gentleman Electric Guitar in Walnut Stain)

- Yamaha Classical guitar (Nylon string)
- Music Man Albert Lee guitar (red)

- Epiphone Les Paul Junior (with 2007 tour graphic)
Notes: Brad has a whole bunch more guitars. There was some great in depth pictures of Brad's guitar on his website.
Brad Paisley's Guitar Amp
- Vox 62 AC30 head and multiple Vox combo amps
- Dr. Z Z Wreck (Cross between a Trainwreck and a Z)
- Dr. Z Stang Ray
- Dr. Z Z-Verb amp head
- Dr. Z 2x12 cabinets
- Victoria 80212 Twin
- Bruno Underground 30 head
- "Hattie Mae", a hand built Trainwreck Liverpool 30 watt head
- Fender 3x10 Vibro King

- Dr. Z Carmen Ghia with a vox blue speaker
- Fender Deluxe Reverb combo amp



- Fender Champ 12
Variety of other Bruno and Dr. Z amps
Brad Paisley's Pickups
Seymour Duncan Brad Paisley signature La Brea Tele pickup Set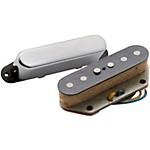 Note:Brad uses a variety of other guitar pickups. See the brands below.
- Lindy Fralin
- Alan Hamel
- Florance
- Kinman
- Voodoo
Brad Paisley's Guitar Effects Pedals and more Gear

- Wampler the Paisley Drive signature effects pedal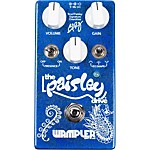 - Wampler Paisley Deluxe Overdrive Brad Paisley signature Effects Pedal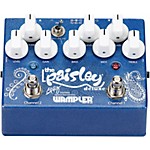 Brad's rig changes often. Here are some of the many pedals he has been pictured using.
- Axess BS2 Guitar Audio Buffer/Splitter
- Boss DD-2 and DD-3
- Boss TR-2 (Keeley)
- Diamond compressor
- Diamond Memory Lane 2
- Dunlop Wahs - Slash wah, etc...

- Ebtech Hum eliminator (rackmount)

- Ernie Ball Volume Pedal
- Empress Superdelay pedal
- Furman AR-1215 AC Line Regulator

- Framptone Amp Switcher
- Hermida Zendrive Distortion
- Keeley Compressor
- Keeley modded Ibanez TS808

- Keeley Nova Wah

- Line 6 M13 Stompbox Modeler
- Line 6 Echo Pro, Filter Pro, Mod Pro effects
- Maxon AD-999 Analog Delay
- MXR Carbon Copy
- Shure Wireless
- TC Electronic Stereo Chorus/Flanger Pedal

- Voodoo Labs Pedal Power
- Voodoo Labs Ground Control
- Voodoo Lab GCX Audio Switchers
- Visual Sound Route 808
- Xotic effects AC Booster pedal

 - Xotic Effects RC booster pedal

- Way Huge Aqua Puss analog delay
- Wampler Pedals Underdog Overdrive
- Wampler Skyline pedal
- Wampler Plextortion
- Wampler Wheelhouse
- Wampler Velvet Fuzz prototype
- Wampler Pedals AnalogEcho
- Wampler Pedals Ego Compressor

Brad Paisley's Strings and Picks
- Ernie Ball nickel strings gauged .10-.46
- Ernie Ball medium flat picks


Go to the next page for awesome pictures of Brad Paisley's guitar setup.