Page 1 of 2
Dan Auerbach is the guitarist and vocalist for the Black Keys, a blues/rock group from Akron, Ohio. He also was in the 3 piece band "The Barnburners".

Dan has a ton of gear in his arsenal and often switches up what he uses. Below you'll find one of the better listings of what he has. Let's see what type of gear and equipment is in the Black Key's guitar player's rig.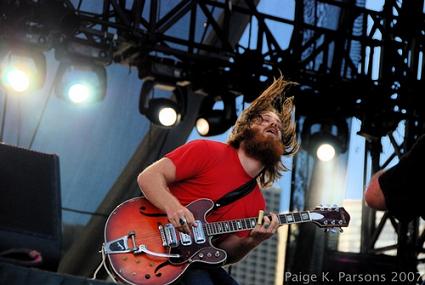 Click the gear images for more info and specs at Guitar Center and Amazon

Guitars
Note: Dan is into a lot of guitars that are no longer made.
- Gibson Firebird VII
- Fender Jerry Donahue Telecaster w/ DiMarzio twin-blade humbuckers
- Teisco Del Ray guitars (as seen in the video for 10 a.m. automatic)
- white 70s Ibanez lawsuit SG with maestro tremolo, used on the Magic Potion tour
- Ibanez lawsuit red Flying V
- Silvertone 1454, and also a Harmony H77 or H78, both three pickup models from the late 60's
- Harmony Stratotone H47 (Lindy Fralin P-90 pickups)
- Gibson Les Paul Standard with Bigsby
- Eastwood airline tuxedo
- Danelectro '56 reissue
- Supro Martinique (white, DeArmond single coils)
- Harmony Heathkit TG-46
- '64 Guild Thunderbird
Amps and Cabinets
- Fender Twin Reverb amps

- Marshall JTM-45 (reissue)
- Marshall 1959HW

- Marshall cabinets (4x12 slant cab and 8x10 cabs)


- Ampeg B12XT 2x12 combo amp
- Hiwatt head (not sure exact model)
- Fender Blues Junior
- Magnatone with 10 inch speaker
- Fender Musicmaster bass amp
- Fender Quad Reverb (live)
- Victoria Dual Deluxe amp (with Eminence Red Coat speakers)
Effects
Note: Dan has claimed he has over a 100 pedals.
- Analogman Sunface
- Analogman TR-2
- Arion analog delay
- Boss RV reverb
- Boss TR-2 Tremolo
- Boss Chromatic Tuner pedal
- Demeter tremulator
- EarthQuaker Devices Hoof Fuzz
- Electro-Harmonix Deluxe Memory Man

- foxx tone machine
- Fulltone SoulBender (Fulltone had discontinued pedal in 07)
- Fulltone Tube Tape Echo
- Rehoused Jordan Bosstone
- Line 6 Tonecore Echo Park

- Maestro MFZ Fuzz-tone
- Electro-Harmonix Sovtek Russian Big Muff (his is the green one)
- Solasound Tonebender
- Z.vex Octane

- Ibanez Standard fuzz pedal (two sliders)
- 60's Shin-ei fuzz pedal
- Palmer PDI-03 speaker simulator
- RJM Effects Gizmo and two Mastermind controllers
- Boss OC-2 Super Octave

- Boss PH-3 Phase Shifter
- Radial JX-2 Switchbone

- MXR 10 Band EQ
- Mission EP-1 Expression Pedal
- Sound Sculpture Volcano volume control
- Boss PS-5 Super Shifter
Strings, Picks, and Cable
- SIT .011 - .050 gauge strings
- Dunlop Standard Tortex .73 Yellow Guitar Picks
- He created custom sets from various manufacturers in the past, gauges  .011, .015, .020, .030, .039, and .049
- Fingerpicks on his index finger
- Divine Noise curly cable
- curly Bullet Cables
Go to the next page for pictures of Dan's Black Keys guitar rig.