Page 1 of 2
Chris Shiflett is the lead guitarist for the rock band Foo Fighters. Shiflett joined the band after the release of their third album, There Is Nothing Left to Lose. Before joining the Foo Fighters, Shiflett was the lead guitarist for the energetic and well-known Bay Area punk rock band No Use for a Name.

Let's look at some of the gear and equipment that has been seen in Shiftlett's guitar rig.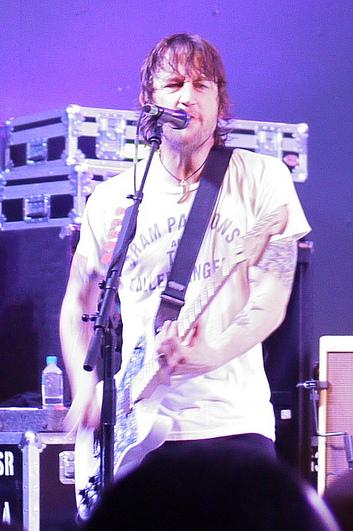 Click the gear images for more info and specs at Guitar Center and Amazon

Guitars
- Fender Chris Shiflett Telecaster Deluxe Electric Guitar
- Gibson Les Paul Custom

- Gibson '57 Les Paul Goldtop reissue

- Gibson Les Paul Junior reissue

- Gibson ES-335

- Gibson Firebird, 1968 non-reverse

- Fender Telecaster (black. also white one.)

- Fender Blacktop Telecasters
- Gretsch Brian Setzer Black Phoenix

- Gibson ES-135
- Gibson ES-347
- Gibson SG custom

- Assembled tele deluxe and Thinline style guitars made from Warmoth parts
- Gibson Flying V (black, white models)



Amps
- Fender Bassman amplifier
- Vox AC-30 combo (fawn color, handwired)
- Mesa/Boogie Road King
- Marshall JMP 50-watt amplifier head
- Fender Super Reverb
- Savage Blitz 50W 2x12 combo
- Friedman amplifier head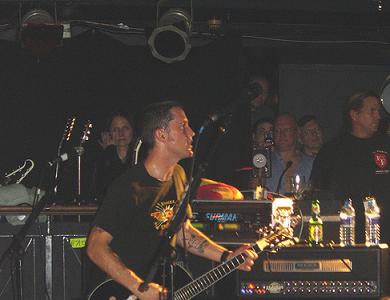 Effects and more
- MXR EVH Flanger
- MXR EVH Phaser Phase 90
- Line 6 DL-4 Delay Modeler (x2)
- Boss TU-2 tuner pedal
- Ernie Ball Volume pedal

- Furman Power Conditioner
- ProCo Rat pedal
- Electro-Harmonix Micro POG pedal
- Menatone The Red Snapper pedal
- Electro-Harmonix Holy Grail pedal
- Fulltone Full Drive 2
- Voodoo Lab Amp Selector

- Line 6 MM4
- Line 6 M13
- Dunlop DVP1 Volume Pedal
Strings
- D'Addario .011's guitar strings
Go to the next page for awesome pictures of Chris Shiflett's guitar rig!