Page 1 of 2
Juan Alderete is an American bassist known for his work with the band The Mars Volta. Prior to his work with that band, he was known for playing in Racer X, where he received credit as John Alderete.

Let's look at some of the gear and equipment that has been seen in The Mars Volta bass players bass rig.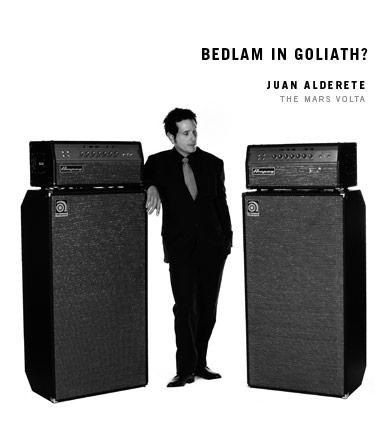 Click the gear images for more info and specs at Guitar Center and Amazon

Bass Guitars
- Lakland Skyline Darryl Jones
- Lakland Joe Osborn with Dark Star pickups
- fretless '71 Fender Precision
- '73 Fender Precision

- '77 Fender Jazz





Amps and Cabinets
- 2 Ampeg SVT-VR heads

- 2 Ampeg SVT 810 cabs





Effects and More
- Juan uses TONS of effects including:

- Boss DD-3
- Boss LS-2
- Boss OC-2

- Boss PN-2 Tremolo Pan
- Boss VB-2 Vibrato
- Digitech Delay

- Digitech Whammy 4

- Dunlop Crybaby Bass Wah
- Electro-Harmonix Bass Micro Synthesizer
- Line 6 DL-4 Delay Modeller w/expression pedal
- Maestro Ring Modulator
- Micro Mutron
- Musitronics Mu-Tron III
- MXR Phase 100
- MXR Flanger

- MXR Bass Auto Q

- MXR Bass DI M-80

- Sovtek Fuzz






Strings and picks
- Ernie Ball medium roundwound bass strings

- uses fingers and also Dunlop Gel picks and his signature picks




Go to the next page for awesome pictures of Juan Aldeter's bass rig.