Page 1 of 2
Dustin Kensrue is a vocalist, lyricist, and rhythm guitarist in the Orange County, California post-hardcore quartet Thrice as well as a solo artist.

Let's look at some of the gear and equipment that has been seen in Thrice's Dustin Kensrue's Guitar Rig.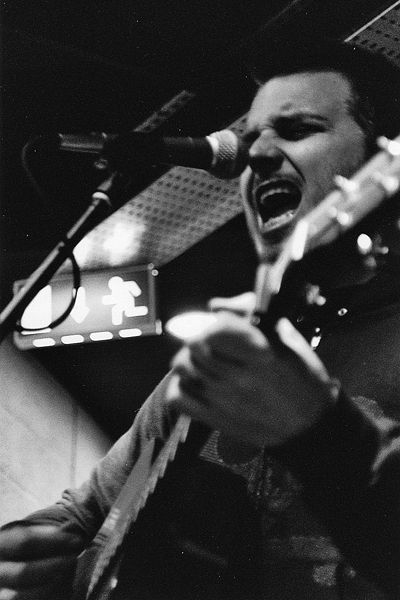 Click the gear images for more info and specs at Guitar Center and Amazon

Notes: In the summer of 2007, Dustin sold his 1966 Gibson SG Jr, Taylor GS Acoustic, 1968 Gretsch Clipper, Marshall JCM800 2205, Mesa Boogie Dual Rectifier, and Mesa Boogie Cabs on Ebay. He stated "Change is good," as the reason for selling his equipment.


Guitars

- '72 Telecaster Deluxe/Variax Hybrid

- Rosewood Telecaster/Variax Hybrid
- Gibson True Vintage Southern Jumbo
- Gibson Early J-45
- "The Jagular" - Nash guitar, a Jaguar-style Warmoth body with Seymour Duncan P-Rail pickups


Other Guitars he has owned and recorded with:

- 1966 Gibson SG Jr (modified for a humbucker in the bridge and with the tone knob removed. This was Dustin's main touring guitar until recently.)
- Gibson RD Artist
- Taylor 510 and GS


Amps and Cabinets
- Vox Hand Wired AC30 combo with Celestion Blue speakers (2009)
- Morgan 30/800 amplifier head and 1x12" cabinet (Celestion gold speaker) (2011)
- Marshall JCM800 2205
- Mesa Boogie Dual Rectifier

- Mesa Boogie Cabs (4x12 and 2x12 in custom 'wicker cane' finish)

- Line 6 Vetta II Combo
Effects and more
- Line 6 POD HD500 Effects (2011)

- TC Electronic PolyTune (2011)

- Line 6 M13 (2009. Replaced with the HD500)
- Line 6 DM4
- Ernie Ball Volume Pedal

- Dimarzio Straps

- Z.Vex Fuzz Factory
- Line 6 DL4
- Boss RV-5
- Boss Tuner
Strings and picks: In 2003 Ernie Ball released that Thrice used Ernie Ball strings. However the article only says the gauges that the other guys use. Can anyone confirm that Dustin uses Ernie Ball strings also? As far as picks go, there is a picture on the net that shows him singing into a mic that has yellow picks and green picks on it. They look like Dunlop Tortex .73mm picks.
Go to the next page for picture(s) of Dustin Kensrue's Guitar Gear.