Thomas Erak is the lead guitarist and lead vocalist from Mukilteo, Washington based prog-rock/post-hardcore band The Fall of Troy. Thomas is currently endorsed by Gibson USA & Orange Amplification. He used to provide vocals for the now defunct Seattle hardcore band, The Hills Have Eyes. His father played as a session musician with The Eagles, playing the Bass guitar, and touring with his side project. As a guitarist, Erak claims to be influenced by Jimi Hendrix, Jimmy Page and Billy Corgan. As a writer, he claims Kurt Cobain is his biggest influence. He has been playing the drums since he was 2 years old, and has been playing the guitar for seven years.

Let's look at what gear and equipment has been seen in The Fall of Troy's Thomas Erak's Guitar Rig.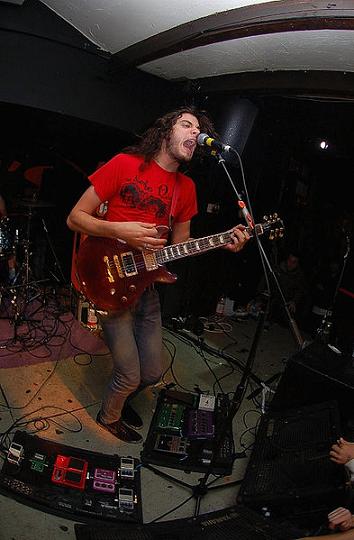 Click the gear images for more info and specs at Guitar Center and Amazon

Guitars
- Gibson Les Paul Studio Swamp Ash edition

- Gibson Les Paul Standard Double Cut Plus, Rootbeer Finish, with a Seymour Duncan JB humbucker in the bridge (second of this model Erak has used)

- Gibson SG-X in Caribbean Blue (Now is broken)
- Gibson SG GT in Muscle Green
- LTD Viper-400 Vintage Sunburst (Erak has stated he dislikes using this guitar) (viper 300 pic below)
- LTD EC-400, See-Thru black cherry (discontinued and last heard to be lost during a European tour)
- Rickenbacker 330, Maple-Glo Finish (Not used live anymore due to its being a gift and danger of being broken)
- Epiphone Flying V, Black(Neck was broken at the end of a show)
- Epiphone G-400, Cherry Red (Used in The Thirty Years War and no longer used, unknown reason)

Amps and Cabinets
- Budda Superdrive 80 head (he's been seen using the Budda's with the Oranges in 2009. Budda site says he is endorsed)

- Budda Phat 12 2x12 extension cabs
- Orange AD-140 Twin Channel Head
- Two Orange 4x12 cabinets
- Marshall JCM900 SL-X 2100 Master Volume head



Effects
- BOSS TU-2 Tuner
- Ernie Ball Volume Pedal

- Ibanez TS-9DX Tube Screamer Turbo
- Digitech Whammy Pedal

- Maxon AD-999 Analog Delay Pedal
- BOSS DD-5 and DD-3 Digital Delay pedals
- Electro-Harmonix Big Muff Pi USA
- Line 6 FM-4 Filter Modeler

- Line 6 DL-4 Delay Modeler
- Morley Little Alligator Volume Pedal

- SKB PS-45 Integrated Pedalboard x2

- Electro-Harmonix Small Stone Phase Shifter (Russian Version)
- BOSS PH-2 Super Phaser
- BOSS DS-2 Turbo Distortion Pedal
- Visual Sound Jekyll And Hyde Distortion Pedal
Go to the next page for pictures of Thomas Erak's guitar Rig
Click the images of Thomas Erak's Guitar Rig to enlarge them to full size in a shadow box.
Photos with EnBee watermark are by EnBee Photo and are licensed under Creative Commons Attribution - No Derivative Works 2.0 Generic license. The EnBee photos are from England, September, 25th 2007.