Page 1 of 2
Travis Stever (known to fans as "Trav" or "The Bone") is the lead guitarist for Coheed and Cambria, a progressive rock band from New York.

In addition to being one of the main players in Coheed and Cambria, he is the lead guitarist and vocalist of his side project called Fire Deuce, an 80s style metal band who released "Children of the Deuce" in 2005.

Travis plays a pretty nice guitar rig - not overly complicated but a nice set of music equipment. I'll also mention that if you like Coheed and Cambria and are interested in their gear, we've also profiled Claudio Sanchez guitar gear on UberProAudio.

Let's look at what gear and equipment has been seen in Travis Stever's guitar rig.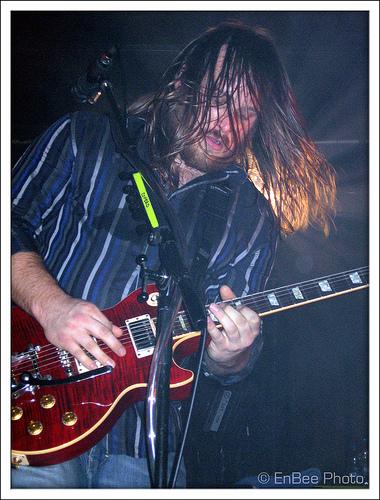 Click the gear images for more info and specs at Guitar Center and Amazon

Guitars
- Gibson Les Paul Standard in Wine Red w/ Bigsby B5 Tailpiece and Sperzel locking tuners
- Gibson Les Paul Standard in Vintage Sunburst w/ a Graph-Tech nut and Schaller Chrome tuners
- Gibson Les Paul Standard in Heritage Cherry-Burst, kept stock

- Gibson Les Paul Studio in Ebony w/ only one volume knob and one tone knob and Gibson white speed knobs (early SSTB era)
- Gibson Les Paul Studio in Alpine White w/ Gold hardware, kept stock (The Running Free video)
- Gibson Angus young SG
 - Gibson SG Special in Blue-Teal Flip-Flop w/ Schaller Chrome tuners and a Graph-Tech nut

- Rickenbacker Lap-Steel Slide Guitar (Used only in "Once Upon Your Dead Body" and "The Willing Well II: Fear Through The Eyes Of Madness", it is a Rickenbacker Lap-Steel tuned to Open F)
- Taylor 614CE Natural acoustic guitar

- 2008 Gibson Johnny A guitar

- 2010 Gibson Custom Les Paul Black Beauty

Amp
- Mesa Electra Dyne amplifier head
- Mesa Boogie Mark V (for distortion)

- Marshall JCM 2000 TSL amplifier
- Bogner Uberschall 100W Head w/ Standard Grill

- Marshall JCM900 100W Head
- Mesa/Boogie Stiletto 100W Head (and other Mesa Boogie amps)
- Mesa/Boogie Stiletto Ace 50W Combo
- Atomic 12" self-powered speaker
Cabinets
- Mesa/Boogie Rectifier Oversized 4x12's

- Bogner Uberkab 4x12's


Effects
- Fractal Audio Axe-FX Ultra
- Whirlwind MultiSelector
- Matrix Amp
- Audio Technica Wireless
- Boss RV-5 Digital Reverb
- Heil Talk Box
- Dunlop 535Q CryBaby Wah pedal
- Boss DD-3 Digital Delay
- Boss PS-5 Super Shifter
- Boss TU-2 Chromatic Tuner
- Boss AW-3 Envelope Filter

- Ernie Ball VP Junior Passive Volume Pedal
- Digitech EX-7 Expression Factory Pedal

- Boss LS-2 (used to switch between Bogner and Mesa)
- Boss BD-2 Blues Driver (on the mesa amp to give clean tones more punch)
- Boss NS-2
- Boss PH-3
- Boss RT-20

- Electro-Harmonix Big Muff
- Rocktron Banshee 2 Talkbox
- Mission Engineering expression pedal
One of our readers reported the following gear in Travis' 2010 rig:
- Line 6 DL4
- Ibanez AD-9
- Digitech Hardwired RV-7 reverb

- Electro Harmonix Electric Mistress Flanger
- Fender Blender

- Maxon & Swell OD's
- Voodoo Labs ground controller (confirmed via pictures)
- Voodoo Labs GCX Switcher
- Mission Engineering Expression pedal
- Voodoo Lab Pedal Power 2Plus
Strings
- DR .010–.046 guitar Strings
- DR DDT's (drop tuned songs)

- 1mm Dunlop Nylon picks

- Everly Strings: 9210 B-52 Medium Rockers (except acoustic)


Go to the next page for pictures of Travis Stever's Guitar Rig