Page 1 of 2
David Gilmour is an English musician best known as a guitarist, singer, and songwriter in the band Pink Floyd. In addition to his work with Pink Floyd, Gilmour has also worked as a record producer for a variety of famous artists. We will show you equipment Gilmour either has reportedly used on his solo or Pink Floyd recordings, as well as on current or previous tours.
Let's look at what gear and equipment has been seen in Pink Floyd's David Gilmour Guitar Rig.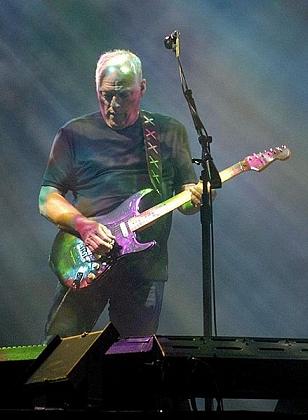 Click the gear images for more info and specs at Guitar Center and Amazon

Guitars
- Black Fender Stratocaster with black pickguard and white pickup covers and knobs, currently with a 1957 vintage re-issue maple neck. Check out the Fender Custom David Gilmour Signature Strat below.

- Red '57 Fender Stratocaster reissue with a set of EMG active pickups

EMG EMG-DG20 David Gilmour Pre-Wired Pickguard and Pickup Set:

- Cream coloured Fender Stratocaster '57 reissue
- Fender Stratocaster '57 Lake Placid Blue
- Double-neck Fender Stratocaster
- Blonde Fender Telecaster, sunburst tele, brown, blonde ash, and others

- Fender Esquire

- Fender VI Baritone guitar
- Fender Precision bass guitar

- Gibson Les Paul Goldtop (P-90 pickups, Bigsby vibrato bridge)

- Gibson EH150 Lap Steel guitar
- Gibson "Chet Atkins" classical guitar
- Gretsch Duo-Jet
- Gibson, Ovation, Takamine, Taylor and Martin Acoustics
- Martin D-28 and D-35 acoustic guitars (one of these two is reportedly David Gilmour's favorite acoustic guitar)


Amplifiers
- Hiwatt (main) David Gilmour DR-103 and DR-504 heads into WEM 4x12 cabinets loaded w/ Fane Crescendo speakers
- Fender '56 Tweed Twin amp (used for smaller concerts)
- Mesa Boogie Mark II C+
- Alembic F2-B bass preamp
- Custom-built 'Doppola' rotating speakers (driven by the Hiwatt heads)
- Gallien/Krueger 250ML combo amp
- Marshall Cabinets (Division Bell)

- WEM cabinets

Effect pedals
- Electro-Harmonix / Sovtek Big Muff
- Electro-Harmonix Electric Mistress
- MXR Dyna-Comp (pre-Dunlop 'Script' logo)
- MXR Phase 90 (Used with Dynacomp for the famous "four note" Syd riff on Shine On Pts. I-V)
- Colorsound Power Boost
- Demeter Compulator
- Chandler Tube Driver
- BK Butler Tube Driver
- Boss CS-2 Compression Sustainer
- Boss GE-7 EQ Pedal
- Boss MZ-2 Digital Metalizer
- Pro Co RAT Distortion
- Heil Talk box
- Arbiter Fuzz Face
- Ibanez CP9 Compression Sustainer
- Uni-Vox Univibe
- Vox Wah-Wah pedal
- Dunlop Cry Baby Wah-wah pedal
- Binson Echorec II
- Binson Echorec PE
- Electro-Harmonix Small Stone
- Digitech IPS 33B (Used for Whammy effects)
- Ibanez Tube Screamer

- Ernie Ball Volume Pedal

- Pete Cornish all tube Pedal Boards and Custom effects
- Pete Cornish Soft Sustain
- Pete Cornish P-1
- Pete Cornish P-2
- Pete Cornish G-2
- Pete Cornish SS-3
- Pete Cornish ST-2
- Pete Cornish Line Driver
- Pete Cornish Linear Boost
- Pete Cornish Tape Echo Simulator (T.E.S)
Notes: On the Pete Cornish website there is a cool page that shows David Gilmour's pedalboard being custom built
- Boss CE-2 Chorus
- The EBow

- Roland RE-201
Miscellaneous
- EMS Hi-Fli Prototype
- EMS Synthi-AKS
- EMS VCS3
- GHS David Gilmour Signature guitar strings
- Herco Flex 75 plectrums (picks)
- D'Andrea 354 HV SHL CX (Heavy .96mm, Tortoise Shell, Celluloid) Picks
- Cross-stitched leather guitar strap used by Jimi Hendrix and bought for David by Polly Samson as a 60th birthday present
- Evidence Audio Cables
Go to the next page to see awesome pictures of David Gilmour's Guitar Rig.