Page 1 of 2
Keith Richards is a man's man. He's best known for playing guitar in the band The Rolling Stones (ever heard of them?) and even cooler, for being a pirate (see the movie Pirates of the Caribbean 3). Keith has a gigantic collection of guitars and gear - actually over 1000 guitars. We will focus on some of his main axes and guitar equipment. Without further adue, let's look at what gear and equipment has been seen in Keith Richards Guitar Rig.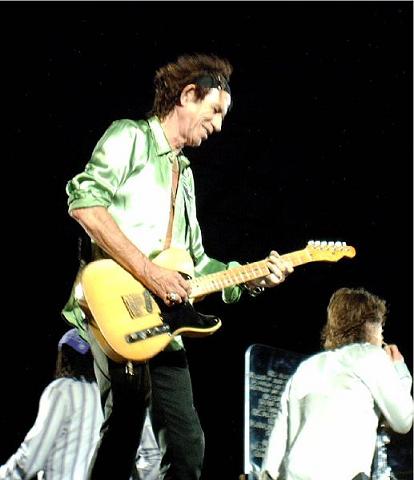 Click the gear images for more info & specs at Guitar Center and Amazon

Fun fact: In Guitar World Keith Richards joked that no matter what make of guitar, he can make them sound the same.

Guitars

- Fender '52 Telecaster - Butterscotch Blonde (this is like Keith's main axe)

Notes: Micawber is the name of Keith's butterscotch Fender Telecaster. It's an early 50's (probably a '52) butterscotch blonde color model with a black pickguard & a stock 3 way switch. Removed 6th string, open G (G,D,G,B,D) tuning. Gauges .011,.015,.018,.030,.042. It has replacement tuners and brass bridge and nut is altered for 5 strings. Gibson PAF humbucker in neck position, original Tele pickup in bridge. Used on tracks including "Before They Make Me Run", "Brown Sugar", "Mixed Emotions", and "Honky Tonk Women".

- Natural finish 50's Fender Telecaster

Notes: Keith's second Tele is also from the 1950's. It has a black pickguard, five strings, natural finish. Similar specs/mods to Micawber. Shubb Capo at 4th fret. Tuned in B: B, F#,B, D#,F#. Used live for Tumbling Dice, Happy, Jumping jack Flash.

- Fender Telelcaster sunburst



Notes: This guitar is also a 5 string. Sunburst color, with a maple neck, & low frets. PAF's cover is removed.  Capoed at first fret. Used live for You Can't Always Get What You Want.


- Music Man Silhouette guitar

Notes: Keith Richard's uses the Music Man guitars for standard tuning songs and has one in black and one in white one. Both are non-tremolo with through-body stringing, the white one has Schaller pickups, the black one DiMarzios, both in humbucker/single coil arrangement. Used in past live on songs like Bitch, Sad Sad Sad, Sympathy, Satisfaction, and more.

- Fender Stratocaster (57 strat pic below)

Notes: Keith's main Strat is a '58 known as the Mary Kay. Previously owned by Ron Wood. It has an all maple neck & fingerboard with a one piece ash body, see through blond finish & all gold hardware. Stock pickups, 5-way selector.
- Fender Classic Series '72 Telecaster Deluxe Electric Guitar

- Gibson ES-355 Guitar

- Gibson Les Paul Custom (he used these a lot in the 60's and 70's)

- Gibson Les Paul TV

- variety of Gibson acoustic guitars
- Gibson Les Paul Standard

- Ampeg Dan Armstrong
- Tom Anderson Trans Black, Cobra
- 1949 Martin D-18 and 1954 Martin D-18
And many many more guitars!
Click the next button below for more info on Keith Richard's guitar gear