Dusty Redmon, guitar player in the band The Almost, will always hold a special place in our hearts - back in 2009 he was the first pro guitar player that UberProAudio ever did an interview with. Now, 3 years later, we check in with Dusty to find out what guitar gear he has been using in his guitar rig, whether he got the gear on his wish list, and what he has been up to with his band.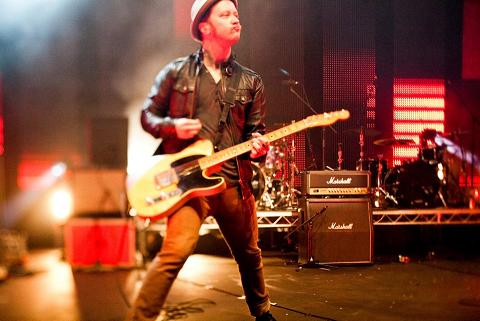 Checkout Dusty's Full Guitar Rig Listing

UberProAudio: Dusty, it's been 3 years since we last talked and it looks like a lot of solid body guitars have been added to your collection since then. When we last talked you were big into hollow body guitars.  What guitars are you using in your rig now?

Dusty: Yeah, the 335 has been put away and so has the First Act. Since we last spoke we recorded "Monster, Monster" and recently just finished our newest album. I'm still playing the Duo Jets and was just given a red Gretsch Power Jet Firebird for my 30th birthday from my buddy Mike at Gretsch.
I got a Fender Cabronita Telecaster recently and love it. It kinda fills that gap between teles and jets. I'm huge into teles. All of the new record was recorded with my old sunburst 60's style double bound tele custom. I just got a 98 cream USA Strat that I love. It has a Rio Grande Quarter Pound pickup in the bridge and totally rules.

Jim LeClair out of Tampa (leclairguitars.wordpress.com) has built a couple of teles for me recently. First a coral La Cabronita clone, and secondly, his take on Jeff Beck's Yardbird Esquire. Jim handcuts all his bodies and necks, and winds his own pickups so meticulously. I can't say enough great things about his guitars!

I also just got an '87 jetglo Rickenbacker 330. Such a different animal, that one is. GREAT rhythm guitar. Lacks a little sustain for leads though, but feels and plays like a dream!

For acoustics, I've got my trusty old orange Gretsch Rancher. I've cleaned up my overall tone in recent years, put more twang into my sound. Aside from the TV Jones Powertrons in my Jet Firebird, I don't really use humbucking pickups these days.



UberProAudio: What amps are you using?

Dusty: So like I said before, I've cleaned up my sound a lot, and went from higher-gained, higher-wattage amps to lower wattage, class-A amplifiers. I have a Dr Z Maz 18 Reverb 1x12 combo with a greenback in it that I've had for a couple of years. It may be the best amp I've ever owned. I became such a fan of Z's when I started drooling over Brad Paisley's tone. Turn those amps up and throw a good compressor on there, and you've got tone for days. That amp with my jets and teles garner me so many compliments on my tone. It's all over the new Almost album. I've also got a totally awesome 1963 blackface Fender Tremolux head with 2x10 cabinet in cream tolex. What I love about the Tremolux versus other blackface-era (and silverface for that matter) Fender amps, is that the Tremo is only 35 watts. It's still got a really big sound and headroom that other 30 watt amps don't have. I'd take my Tremo over an AC-30 anyday. Love that amp!



UberProAudio: A few years ago you told us you started using a Line 6 Pod X3 for all your effects on stage. Did you stick with that path or have you been collecting pedals (our favorite hobby!)? What effects are in your rig now?

Dusty: No more Pod for me. I've got a couple of different boards, since the Almost has been doing so many dates where we fly out for shows. I've got a larger board for tour/home/studio, and a smaller one for all the flying. My larger board is built by a guy here in Winston who has a company called SouthPaw PedalBoards. My signal path looks like this right now (but will probably be different in 2 days...you know how that goes...ha): Boss TU-3, Paul Cochrane Timmy Overdrive, T. Rex Mudhoney Distortion, Diamond Cornerstone Distortion, Morgan Shadow Fuzz, JHS Pulp N' Peel Compressor, Ernie Ball VP Jr, MXR Carbon Copy, T. Rex Tremster Tremolo, Boss DD-20 Delay, Strymon BlueSky Reverberator, JHS Little Black Buffer. Those are all linked by Lava Cable and powered by T. Rex Fuel Tank Chameleons.

For the fly-rig, I have a Pedal Train Nano with a Diamond Compressor or T. Rex Mudhoney (depends how I'm feeling), Line 6 M5, and Line 6 Verbzilla.



UberProAudio: What picks, strings and accessories have you been using?

Dusty: For picks, I use the orange Duralin .60 Planet Waves picks. Strings are the always amazing D'Addario 10's, long cables are Planet Waves' new USA series, which TOTALLY rule, and straps are Planet Waves lock straps.



UberProAudio: When we last talked more Gretsches and the 1960's-era Epiphone Frontier acoustics were on your wish list. What's on your new 2012 wishlist?

Dusty: Ya know, I got more Gretsches, but didn't live up to that Frontier. I'll always love more Gretsches, but right now I definitely would be down to get a blackface Fender Bassman or Bandmaster. A Dr Z Z-Wreck wouldn't suck either...ha. I've been hoping to nab a Strymon El Capistan as well. I really like a true-sounding tape echo, and theirs is really sweet.



UberProAudio: What's new with your bands/projects?

Dusty: The Almost recorded our third full length in the early summer in Nashville with producer Marshall Altman. We tracked it live in four days in a rad little studio. We spent eight weeks recording the last one. We really wanted to capture what we sound like as a live band, and I think we did that. The new album should be out in mid-winter, early next year. We'll be hitting some European dates in October/November this year, and back along the eastern part of the US in January, playing tons of new songs.

Checkout Dusty's Full Guitar Rig Listing



Checkout Dusty and his band The Almost at http://www.thealmost.com/