Many ÜberProAudio readers have been asking what guitar gear Dusty Redmon from the band The Almost is currently using.
Luckily, the mystery has been solved thanks to Dusty filling us in on all the details.
In addition to being the guitar player in The Almost, Dusty has also been in the bands Beloved and Dead Poetic.
Also checkout Dusty's Rig Page on UberProAudio.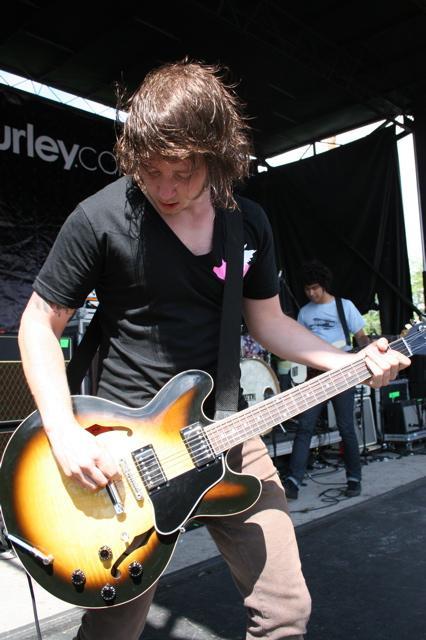 ---
UberProAudio: Dusty, we've been researching some of the gear you've used in the past, like Reverend and First Act guitars and Mesa amps. Are you still using the same gear?


Dusty: I don't play the reverend or the dual rectifier anymore. Guitarwise, I play a Gretsch Duo Jet, a Gibson 335, and my First Act Silverburst Delia. For amps, I play a Moss 100 watt head and matching 2x12 extension cab w/ vintage 30's. It's the one with my name on it. I will also be playing Fender Twin amps


UberProAudio: Do you use any other gear in your rig? Pedals? Strings/Picks? etc...?


Dusty: I just started using a line 6 podx3 live for all my effects only. I've also got an Electro Harmonix Holy Stain and Small Stone, a Line 6 DL4, Boss TU-2 and NS-2 noise suppressor. For picks I just use Dunlop .60 orange tortex, and Dean Markley 9's and 10's (blue steel).


UberProAudio: Why do you like the semi-hollow guitars over solid body guitars?


Dusty: I love the sound of a big hollow body. It's got so much more of a round sound than a solid body. My 335 and both first acts sound HUGE in comparison to my les pauls. My black Gretsch duo jet 6128t is smaller, but is chambered, giving it that semi-hollow sound with the potential to get twangy like a tele. It's the greatest guitar ever made.


UberProAudio: What led you to use the Moss amp?


Dusty: Maurice, Andrew, and Colin at Moss are killer people. My guitarist Jay originally got in touch with them and pointed me in their direction after I told him I was getting tired of my boogie roadster. They're built an hour south of Tampa, where the band is from, making it possible for me to go down and physically meet and play on some amps. Mosses are all hand-wired point-to-point and mine was fully customized for me. The gain channel is pretty insane, but for the Almost, it's a bit too much. The clean channel can sparkle and can also get kinda crunchy. It has a push/pull pot, switching the clean circuit into two modes: an ac30 and an old blackface. I crank the gain one the clean, using the blackface sound and get my tone.


UberProAudio: What is on your gear wishlist?


Dusty: Right now I'd love to get a couple of more Gretsches. I have a great rep there and have become a full believer. They're built so much better than higher dollar guitars, and the tones are soooo versatile. I'm also eyeing a few 1960's-era Epiphone frontier acoustics. They're super-rad epi's that are really similar to Gibson's hummingbird.


UberProAudio: Thanks for the great info! We'd love to setup a Dusty Redmon rig page on the Who Plays What section of ÜberProAudio.


Dusty: Awesome. This site is pretty killer. I'm pretty impressed at the variety of shredders listed on here..ha.
Checkout The Almost - great band!
-UberPro