Page 1 of 2
Long after the grandeur of their industrial glory, America's rust belt cities present a bleak facade; decaying brick and concrete monstrosities, wrangled iron strangling the hope that their time will come again.  But if you're willing to look a little deeper, you'll find that these places are full of dreamers, people who stayed behind to create something special out of the ashes.  Canton, Ohio is one of these cities and Lovedrug is one of their bands.

With a career spanning a decade and a new EP ("EP – Part I") released April 13, Lovedrug is just that; an addictive concoction of nouveau, Midwestern romanticism.  Their music brings to mind the best of Shudder to Think and the Grifters, but it's also the sound of experienced players finding the perfect drink in the dingiest bar on the edge of town, or the prettiest girl in the most desolate of places.  The new EP is both sad and hopeful, with a healthy dose of beautifully layered noise.

Through the magic of e-mail, uberproaudio.com was able to chat with the band's Michael Shepard (vocals, guitar, piano), about their latest release and the plans for the future.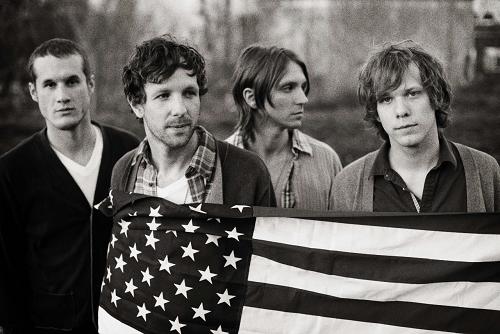 UberProAudio: You hail from Canton, Ohio. Has the city influenced your music?  Has it been supportive of your music?

Michael Shepard: No... and no. Technically we are from Alliance. Alliance has zero influence in regards to anything artistic, which is why we kind of, well, love it. The closest city that embraces us is Akron, OH, which is about forty minutes north of where we live. That's kinda where we got our start playing gigs.



UberProAudio: The new release was recorded in Los Angeles. How was this experience different from your previous recording experiences?  What gear did you use in the studio?

Michael: I'm not sure if you're confusing our most recent record "the Sucker Punch Show" with our most recent self release, which is "EP part 1". Sucker Punch we recorded in Santa Monica at Red Bull Studios which is an amazing facility with some gear that would turn the coolest cat's head for sure. We tracked that on an SSL K series board with a bunch of vintage Neve gear and so on that was brought in courtesy of Mr. Michael Beinhorn. NOW... if you're referring to the EP we just put out… I recorded that in our rehearsal space with an 8 track from Toys R Us(practically).



UberProAudio: Is the sound on the new album a departure from previous releases?  What was the band's mindset when recording "EP-Part I"?

Michael: Yes. Yes. Very different indeed. This is way more indicative of our current state of being, which is refreshed. No dirty feelings or angry piñatas to crack open here,  only good things. Still a little tragedy but it's all about love nowadays. It's all loved songs really, Ha.
It really is actually... weird.



UberProAudio: You're self-releasing 2 more EPs in the future as part of a trilogy.  Where did this idea come from?

Michael:  Well, the best things in life come in three parts.. Star Wars, Lord of the Rings… we're just following suit here.  Ok, actually we just have so many songs we wanted to share, that one or even two EPs wasn't gonna be enough. 



UberProAudio: The new EP features some great synth/keyboard and guitar sounds.  What does your live rig look like?  (Guitars, keys, amplification, effects)

Michael: Me and Jeremy both play through Orange amps, AD30TC's to be exact. We use Reverend guitars, Gibsons and some vintage Telecasters as well. Jeremy is all about the synths. He's got a Roland Juno G which he tweaks to make sound crazy all the time and then some older vintage synths as well. Our effects are pretty tame compared to a lot of bands. Just some good analog delay courtesy of Maxon, some verb by TC Electronic and a few overdrive pedals for color. We don't really use anything too rare. We just know how to tweak what we got to make it sound right for us. 



UberProAudio: Your sound is very textured, with both guitars and synths.  Who are some of your influences musically?

Michael: We're all over the map with influences. But some things I know we can agree on are the bands from back in the day that just knew how to crank it up loud and play good music together, bands like Zepelin and the Who. Not so much like we want to sound like them, it's more the mentality that we try to embrace. We're a bit more pop, musically speaking.



UberProAudio: Do you have any favorite cities to hit while on tour?  Has the US or Europe been the most receptive of your music?

Michael: Well, we've only been to Europe once thus far and it was great but we weren't there for long enough to get a real bead on how we'll go over out there. Here in the states we do pretty well. Chicago, Nashville and NYC are among our favs.



UberProAudio: Your bio mentions day-jobs.  When you're not changing the world with your music, how do the Lovedrug band members spend their days?

Michael: Ha. Yep, were the epitome of the "starving artist". It's kinda ridiculous how many jobs we've all had to deal with, quit and then come back to over the years. I'm usually painting somebody's house or working on somebody's car. James is working for his Dad's electrician company. Jeremy works at a factory and Thomas works for a company that caters to disabled folks, driving them around, shopping for them and what not.
So yeah… our jobs are all over the map too.



UberProAudio: You have a fantastic reputation as a live band and have toured extensively in the US and Europe. Where can your fans expect to see you in the near future?

Michael: This June and July we'll be touring the whole US on a headlining tour. We'll be playing a bunch of new tunes, so come out and check it out.



Find out what Lovedrug is up to at http://www.lovedrugmusic.com/

Interview by Daniel Gay.
Click "Next" below to see a listing of Michael's guitar gear.