Page 1 of 2
Raul Alvarez is a guitar player and singer in the Australian metal band Dark Order. Dark Order has been working the Australian metal scene for the past 16 years (previously known as Vanadium), helping to define what Australian Trash Metal is all about. Raul took some time out of his busy schedule (Dark Order is currently in the studio recording a new album) to talk to UberProAudio about his gear, what the Australian heavy metal scene is like, and what Dark Order is up to.
UberProAudio: Tell us about the new album you are currently working on "Cold War of the Condor".

Raul: The new album is a very special album. It's a Thrash Metal concept album for starters. It's about a REAL historical event that began on September 11th 1973. The REGIME of General Augusto PINOCHET Ugarte. The 17 year bloodied brutal dictatorship of Chile unlike any other before it. The album will show the regimes murders and disappearances, torture mechanisms, and how it created and led a global clandestine dirty war against its opponents, fully backed by the United States. None of the lyrics in the album are invented; rather, they are all true events.

The album title is 'COLD WAR OF THE CONDOR'. The Condor is the national symbol of Chile and appears on the crest of the republic of Chile. It is also the name given to a secret operation that was initiated and operated by the DINA (The directorate of National Intelligence) & General Pinochet in 1975 to murder exiles around the world that posed a threat to his regime… 'OPERATION CONDOR'. Its most infamous murder was the car bomb murder of Orlando Letelier in Washington DC, Embassy Row, in 1976. I would love our album to be the basis of a movie one day!  Type the name 'PINOCHET' into Google and you'll see what this album will be about.

And yes, if you're wondering, I am of Chilean background. My parents moved to Australia in 1970. Hence, my interest in this topic. Plus, what's the point about singing about typical METAL topics? It's the same repetitive crap, you know, Satan, wars, paganism etc… it's just OVER done! Plenty of other topics out there! I want DARK ORDER to be as original as possible.

Musically, we did our best to match the style of music to what the individual topic was on each song. Overall it's a much darker, technical, heavier and faster album than anything we've done before. I aimed for it to be a cross over of Slayers 'Reign in Blood' album and Queenryche's 'Operation: Mind Crime' album. I feel confident that we achieved that. From a DARK ORDER perspective, in hindsight, it's like a crossover of our first album '5000 years of Violence' and our second album 'The Violence Continuum', but, amped up times 10 in all areas.



UberProAudio: Let's talk about your gear, what type of guitars do you use and why?

Raul: I use Grubisa & Gibson 6 string electric guitars tuned to E flat. It all started in 1990 when I was a huge Metallica fan, and especially, a James Hetfield fan. I was captured by the 'One' video clip, seeing the white ESP Explorer of his, hung low looking like a war machine gun! So naturally I saved up for an Explorer shaped guitar, and ended up with an original black Ibanez Destroyer! So with a year of that, having learnt more about guitar brands, I saved up for best of the Gibson Explorers available at the time, 'the Explorer reissue' 1990 model (not the '76 reissue) which appeared in production for 2 years only. It differed from the '76 reissue in that it has a one piece body, not attached wings, it has Grover mini-tuners as opposed to cheap Gotoh OEM on the '76, and its pick-ups came with chrome covers, the bridge being a 'Dirty Finger' and the neck being a Bill Lawrence. Thus Gibson charged $400.00 more for this version than the regular '76.

Then during 1995, being not completely happy with what Gibson could offer, I had a friend and local Luthier Frank Grubisa ( http://www.grubisaguitars.com ) build me a Custom Explorer with a Camouflage finish and set neck slotted all the way to the bridge pickup, plus strings thru-body. This guitar had twice the low end and sustain than my Gibson!!! So from then on I have only had Grubisa custom guitars built for me. I soon, in 1998 had a 24 fret Natural finish Flying V with reverse Scimitar headstock with Starfleet inlays, and then in 2007 I had a Black Flying V custom, 24 frets with Les Paul style binding, split diamond inlays and a Dean styled headstock.

All my Grubisa guitars share these traits: Mahogany neck & body, Ebony fret boards, Graphtec nut,  Tone Pros Nashville Tune-o-matic bridge with Graphtech saddles, V anchor plate for strings through the body,  Sperzel locking Machine heads, 6109 sized frets, Jackson Rhodes V styled angled input jack on upper wing on the two Flying V's, neck joined at 21st fret. CTS pots.

Hence, the Black V is my main guitar, the natural V is my second, and the Grubisa Explorer copy is now a studio guitar as is my Gibson Explorer.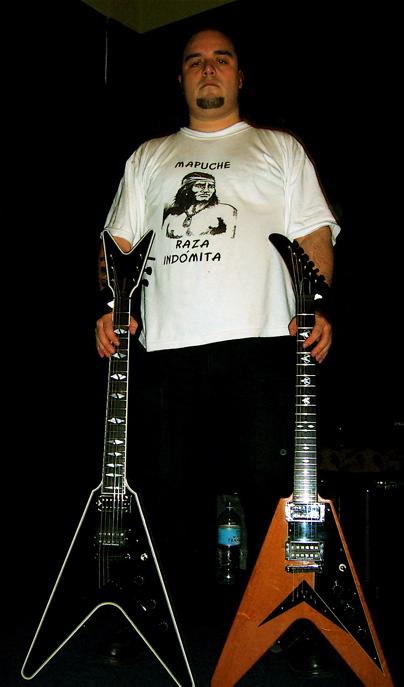 UberProAudio: How about the pickups, what do you prefer to use?

Raul: All my guitars are loaded with either Seymour Duncan pickups. I have tried Dimarzio's but there just not my sound…nothing wrong with them though. And I absolutely hate EMG's!

Currently my guitars have:
Gibson Explorer reissue 1990 black: Bridge: SH-6 Duncan Distortion. Neck: Original Gibson/Bill Lawrence OEM
Grubisa Custom made Explorer Camouflage: Bridge: SH-6 Duncan Distortion. Neck: Gibson Classic '57
Grubisa Flying V Custom made Reverse Scimitar headstock – Natural finish: Bridge: PATB-2B Parallel Axis Distortion. Neck: SH-1 '59 neck
Grubisa Flying V Custom made Dean styled headstock – Black finish: Bridge: PATB-2B Parallel Axis Distortion. Neck: SH-1 '59 neck. (Though I am trying out a TB-5 Duncan custom at the moment.)



UberProAudio: Tell us about the amps in your current rig.

Raul: MARSHALL JCM 2000 TSL100 Triple Super lead loaded with Winged-C  EL-34 and JJ preamp tubes. I LOVE this amps clean and distortion sound!

Cabinets: 2x Marshall 1960B Quad boxes with Celestion GT-75's.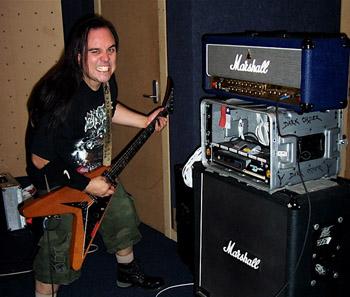 UberProAudio: Do you use any kind of effects pedals?

Raul: I only use an Ibanez RC-99 rotary Chorus in FX loop of my TSL100. It's used for the clean channel only. That's it!



UberProAudio: What brand and gauge strings do you use and why?

Raul: I use Dunlop 11-50 gauge strings. I just love the feel and tone and sustain of these strings!!!



UberProAudio: Any types of favorite guitar pick?

Raul: Dunlop Green Tortex Triangle .88mm. I also love the Clayton triangle picks but I can't get them in Australia, and NO-one will send them here from internet order!!!!



UberProAudio: You are in a heavy metal band in Australia, what is the scene like over there?  Is there a large heavy metal community?

Raul: Well, let's say that True Metal scene in Australia, being Thrash Metal, Death Metal, Traditional Heavy Metal, Power Metal, Pagan Metal, Black Metal etc. etc. , is very small, however, the sickness that is Metalcore is huge here, with bands like 'Parkway Drive' and 'I killed the Prom Queen'. So all the REAL Metal heads are in very small numbers, but all the MetalCore Kids, the 'Pokemon Kids' as we call them, are freakin everywhere!!! Lately, when ever a big band like Slayer comes out, we see a mixture of real Metalheads and Pokemon Metalcore kids. I freaking hate seeing them with their pokemon hair styles and their pants down their arses!!!



UberProAudio: Dark Order has been around for 16 years, how has the metal scene in Australia changed over the years?

Raul: The scene over the recent years has been in decline of quality bands. When we started in 1993 there was a very healthy Metal scene, particularly in the Death Metal scene. We, being a Thrash Metal band, arrived just after the big wave of Thrash had died off. Remember that Grunge came in at that time period and fucked the metal scene. Then every man and his dog got into Fear Factory. Then it was Nu-Metal. Now freakin Pokemon Metalcore!!! And here is DARK ORDER, still thrashing after 16 years! We will never stop playing Thrash Metal. We're just waiting for this current trend to die off, just like Nu-Metal did a while back.



UberProAudio: How has your sound changed from your first album "5000 years of violence" to your new album?

Raul: WOW! Good question….lets see. Well there are still a lot of elements from the first album that are still here, for example, the military snare rolls, the Slayer/Cannibal Corpse/Morbid Angel/early Anthrax/S.O.D. influenced riffs and the unorthodox drumming patterns that my brother Marco does. '5000 Years of Violence' album contains songs from our primordial stages, like Warrior God-King and 'Attrition of Fear', through to the current set sound that permeates now like 'What is past is Prelude' and 'Rise And Kill'. 

I'd definitely say that our sound now is like a continuation from 'What is past is Prelude' and 'Rise and Kill' type sound, but it's become much more complex in structure and riffs than those songs. In the concept album we're recording, 'COLD WAR OF THE CONDOR', we're employing a lot of the things that bands like 'Coroner' and 'Voivod' use to use. For example in our riffs there is A LOT of inverted minor 3rd chords and tritone flat 5th chords. Like Coroner, using dissonance to the maximum. Also, in the drumming department we're using the toms a hell of a lot, replacing double kick in most parts. We believe that double kick runs are so overdone in most bands that it has lost its effect. We've also mixed in Latino rhythms into to the metal songs, as well as continuing the Latin Folk sound that was started on 'Moby Dick – OVERTURE' on the album 'The Violence Continuum' with a song dedicated to Victor Jara.



UberProAudio: War and Religion both seem to be common themes in your songs.  What is about these two topics that interest you as a song writer?

Raul: Well, those war topics are about real human suffering, and the religion topics is more my anti-organized religions stance in a logical format presented and influenced by the Star Trek philosophy. I hate all fake make believe lyrics, like that of Power Metal bands, and gore and Satanic lyrics by Death & Black Metal bands. I'd rather sing about topics that are actual events whether it be past or present. Hence, why our new album, 'COLD WAR OF THE CONDOR', is a documentary account of the events of the Pinochet Regime. The true Crimes of Humanity.



UberProAudio: What do you think the future holds for Heavy Metal in Australia?

Raul: I don't know to be honest with you. Being in this small scene for 16 years, I have seen trends come and go, and I hope that Australia can get more connected with the Metal world, like Europe, U.K., Latin America and the U.S. I have noticed some young bands that do want to be connected with real metal, but it has dwindled with the years. I know that Australia has a lot more potential for healthy Metal scene than is current. 

Just as I see a ray of hope with some young band playing real Metal, I quickly get disappointed that 5 young bands have started playing Metalcore pokemon hairdo shit! You know what I mean?



UberProAudio: What does the future currently hold for Dark Order?

Raul: We will be planning to do a Tour for the album Australia wide, hopefully a trip to the U.S.A. even as well! And then we will start creating the planned DVD release with live shows, video clips and interviews. At the same time we will start writing the next forth album!!!!

The new album is to be release through BATTLEGOD Productions and should be out late this year in 2009. I fucking swear on my life that BATTLEGOD is the best label to EVER to have come out of Australia! The promotional work of Mr. Gorgoroth is second to none! It's because of him and his tireless work of his BATTLEGOD label that DARK ORDER has found an international following... Couldn't have done it without the BATTLEGOD label!



UberProAudio: Thank you for taking the time to talk to us!

Raul: Thank you!!!!!
For more info on what Raul is up to with Dark Order, checkout www.myspace.com/ darkorder and www.darkorder.com.au/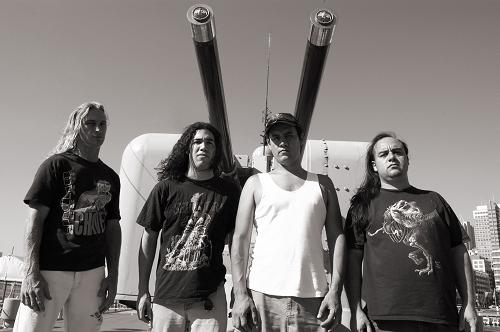 Images provided courtesy of R. Alvarez
Go to the next page for a listing of Raul's guitar gear.