Page 1 of 2
For quite some time I have longed to have a nice double bass pedal to use on my Tama drum kit. About a month ago, I had the chance to get a new Trick Drums Dominator double bass drum pedal, and I have been using it every day since. The dominator pedal is Trick's latest product offering to the competitive kick pedal market. The Dominator pedal is based on Trick's flagship bass drum pedal, the Pro 1-V. Trick's goal was to create a pedal that offers all the unique performance features of the Pro 1-V in a more affordable package. Read further for our review of the Dominator Double pedal.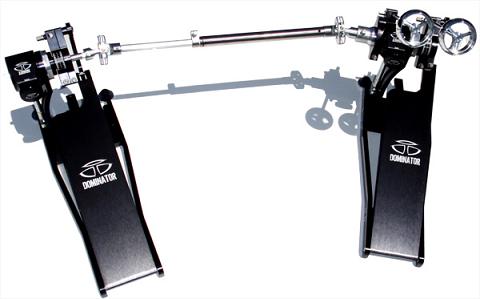 The Dominator pedals have a host of cool features, the first being that they are made in the U.S.A. out of AL13 aerospace alloy. The AL13 alloy is a rugged material that gives the pedal a very sturdy, quality feel. The AL13 alloy has a black anodized finish on it that makes it look extremely cool. For you death metal aficionados, this looks like the pedal Satan would use if he was your drummer.

The Dominator pedals are designed to be modular single pedals that can be combined with a second pedal to create a double version. You do this by connecting the two separate pedals with a stainless-steel drive shaft that features Trick's zero-backlash free-floating universal joints. While this may not light some of your light bulbs yet, think of this – you can start off buying just a single Dominator pedal. THEN when finances allow, you can pick up a second pedal and drive shaft and have a sweet double pedal setup. This isn't the case with many kick pedals on the market. You can see in the pictures I took, that when you order a double pedal kit from Trick, you literally get two separate kick pedals with the drive shaft.

Each Dominator pedal contains a unique internally housed compression spring which can be adjusted "on the fly", simply by turning a knob. I love this feature for two reasons. First, is that when I played other bass drum pedals that have the spring exposed on the side, every so often the spring would pop off the pedal if I was really playing hard. This is a bad thing if you are playing anywhere except in your own basement. This won't happen to me with my Trick pedal since the spring is not exposed. Secondly, it is REALLY easy to adjust the pedal's spring tension. Just twist the knob on the top to the left or right and that's it. You don't have to squeeze this and turn this etc…. like some pedals have you doing.

The footboard and beater angles on the Dominator are independently adjustable via a split cam system, and both cams have laser engraved reference markers. The laser markings are cool because you can easily dial in your favorite setting if for some reason your guitar player was trying to play your drums and fiddled with the adjustments. We all know that happens!

Another thing I really like about this pedal is that it is a longboard pedal. I have size 12 feet, and a longboard is the only way to go for me. People with smaller feet also know that longboards rock, because they make it easier to play some double kick techniques that aren't as easy to play on a shorter pedal. There are a lot of other cool additional features on the Dominator, like an all-machined beater (made out of "fatigue proof steel"), a long, smooth, rear-hinge footboard design, a spring-loaded quick-release hoop clamp, a direct-drive linkage, and a wide-track rail-style foundation for stability and reduced weight. Perhaps one of the greatest features of this pedal is its price performance ratio. You would expect a pedal of this caliber to be priced super high, but it's not. Would you believe the street price for a Dominator double pedal is only about $170 more than an Iron Cobra set?

The other day I went to a big chain music store and tried out all the double kick drum pedals they had setup in the drum room, for some additional thoughts and comparisons to my new Dominator pedals. For me, none of the pedals there compare to my new Trick's. I just love the smoothness, the look, the craftsmanship, and the playability of the Dominators. I've owned some of the other pedals out there, and I'm not going back! If you are in the market for a new pedal or double pedal set, I definitely recommend you take a look at the Trick's and see what you think.
You can find more info on the Trick pedals at www.trickdrums.com
You can also visit Musician's Friend for more info and specs and to buy a pedal(s): 
The following page has a listing of pictures which are what I call "Like Christmas Pictorial Tour" of me opening my new Trick pedals. Go to the next page to see the pictures.