Page 1 of 2
I spend a lot of time at UberProAudio researching what gear hundreds of famous musicians have in their rigs. Every so often I'll come across a piece of gear that someone is using that catches my eye. Most of the time I'll just make note of the cool gear and move on, but sometimes I decide I have to get that gear and try it out.
Recently I have been on a distortion pedal hunt. I've wanted to add a nice distortion pedal to my collection of studio and live gear and have been buying up pedals to try. While I've found some decent pedals, nothing quite did it for me. That's when I came across the Greedtone Overdrive pedal.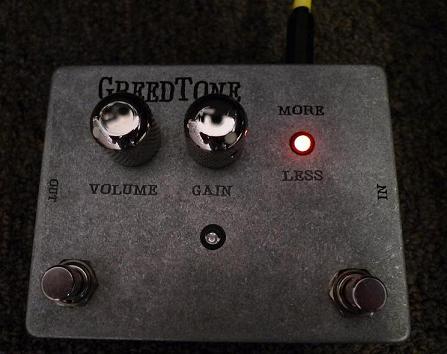 Greedtone is a small company run by owner and professional audio engineer, Greg "Greedy" Williamson. Greg hand makes each Greedtone Overdrive pedal in The Bionic Ear Factory in Seattle, Washington. Greg has spent years (since 1992) perfecting the Greedtone pedal, making a pedal that not only has great distortion, but one that helps keep the tone of the guitar in-tact. The list of pro users that have a Greedtone pedal, tells you that this is one serious piece of gear. Do you like Pearl Jam? Mike McCready has one of these handbuilt beauties. How about Minus the Bear or Murder By Death? They have them too! All handbuilt by Greedtone just like if you buy one.
As you can tell, I was excited to get the pedal in the mail. When it arrived it came in a nice velour style bag with a power supply, Greedtone guitar pick, and Greedtone stick. When I took the pedal out, my first thoughts were that it not only looked really cool, it felt rugged. The quote on the Greedtone site is right "Best Parts Anywhere. Silver Solder. Solid Cast-Aluminum Case. Heavy-Duty All Metal Knobs. Everything is hand built and durable as all hell!"
The pedal has a couple metal knobs on the front, two push buttons, and two led's. Not too much stuff and not too little. It isn't a cluster f*$% of knobs like some pedals are. One knob controls the volume while the other controls the gain. The push button on the left turns the pedal on and off. The push button on the right toggles the more or less feature of the pedal. When you toggle to "More" the light in between the More and Less signifies this. When the pedal is on, a blue light turns on towards the center of the pedal. Reading the FAQ on the Greedtone site, I noticed someone asked whether the rumor that the blue light was so bright it could be used as a flash light on stage was true. Let me tell you – this thing is bright! Look at the pictures of the light that I took for the review.
When I first plugged in the pedal I learned of another cool feature that the Greedtone Overdrive has. Unlike many other pedal makers, Greedtone has a locking power jack (to be used with a locking adapter, like the one you get with the pedal), so your power can't be tugged out by accident. The pedal also accepts an internal battery for power redundancy. I decided to insert a battery into the pedal, which gave me a good look at the internals. I noticed some great hand crafted electronics work inside the pedal. The solder and wiring was clean and top quality.
Before I discuss how the pedal sounds, I'll first describe my testing equipment. I used two guitars – a custom built telecaster with EMG tele pickups and an old Stratocaster. The amp was nothing fancy – a Marshall 65 watt combo (not tube). I began testing the pedal in the off position through the clean channel of the amp. The amp volume was on 2 or so. Things sounded like if I plugged directly into the amp – always a good first sign. I then turned the pedal on and put it to the "More" setting. The More setting gives a more distorted sound than the Less setting. I then began to turn up the volume knob on the pedal. Holy Sh#t! Turning the volume up just a couple notches made me realize I could have blown the speaker right out of the amp if I kept going. Yes! That is what I call volume control! Think "All my amps go to 11" type of volume control at your fingertips. I decided I like the volume control turned to about 7 or 8 o'clock cranked the gain all the way up and then began rocking out.
The sound that came out of that pedal was what a gear head like myself would call beautiful. It transformed that kind of crappy amp of mine into one that I wouldn't be embarrassed to gig with at all. I got this sound that was big and tube like. The tones of the guitar could be heard very well and the crunch was very good – not overwhelming, but just right. Later on I was checking out a video in which a guy was talking about the Greedtone pedal and he mentioned that Greg spent a lot of time getting it to sound like tubes, which explained why I noticed that tube like sound. I continued to rockout with the pedal trying all different combinations of knob settings. The Less setting backed off the crunch quite a bit and would be very good for people that like to have a bit of badass to their guitar sound but not too much. I personally am a "More" guy, so that is what I think I will use the most.
I'm looking forward to trying out the pedal on some other amps and put it on some recordings when I get a chance. This pedal is one that will be in my collection for a long long time. Thanks to Greedtone's 100% lifetime factory warranty that will be a long time of no worries if anything every happened to the pedal too. If you are looking for an Overdrive/Distortion pedal and want something that is handmade with pride in the USA and sounds awesome, and also something that not everyone has, then definitely give the Greedtone Overdrive pedal a try.
For more info on the Greedtone Overdrive and to buy, visit http://greedtone.com
Tell Greg UberPro sent ya! Greg is a fan of UberProAudio 

Go to the next page for pictures of the Greedtone Overdrive pedal.