Eddie Van Halen is a guitar player who needs no introduction. He helped create modern electric guitar playing. We did a lot of research here to see what Eddie Van Halen's guitar gear and rig has looked like. Let's look at some of the guitar equipment Eddie has been seen using during his career.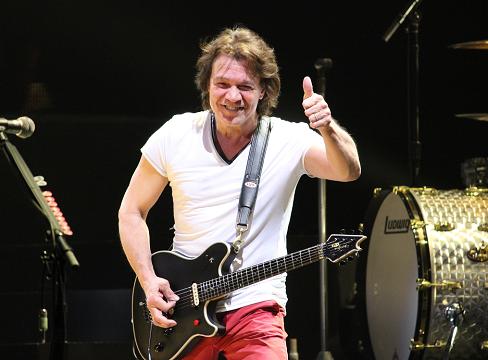 Click the gear images for more info and specs at Amazon

Guitars
- The EVH Wolfgang guitar (Ed put tons of work into making this guitar the perfect guitar for him)
- The famous Frankenstein Guitar
- Charvel Guitars (they made ones with EVH art too)
- Kramer Guitars
- Ernie Ball / Musicman Guitars
- Peavy Wolfgang Guitar
- Steinberger TransTrem
- Ibanez Destroyer (originally white. Later modified heavily)
- Fender Strats and Telecasters
- Gibson 1958 Korina wood Flying V
- Coral Sitar
- Gibson  6/12 string double neck
 EVH D-Tuna Drop D tuning system


 Note: You can now buy the Frankenstein pickups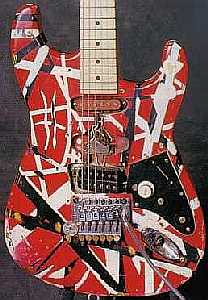 Amps and Cabinets
- EVH 5150 III amp head
- EVH 5150 III 4x12" cabs
- Marshall 100-watt Super Lead
- Soldano SLO-100
- Peavey 5150 and Peavey 5150 II
- Peavey 6505 and 6505+ (the newer version of the 5150 after eddie stopped endorsing)
- Celestion 12" G12EVH Eddie Van Halen Speakers
- H&H V800 Power Amp
Effects and Rack
- MXR EVH 5150 Overdrive pedal
- MXR EVH 5150 Chorus pedal
- Dunlop Eddie Van Halen Signature Wah (based on Eddie's customized original crybaby)
- Dunlop Original CryBaby Wah Pedal
- MXR EVH Phase 90 Phaser
- MXR EVH-117 Stereo Flanger
- MXR Custom Smart Gate Pro
- Boss OC-3 Super Octave
- Boss SD-1 Super Overdrive
- Custom Audio Electronics RS-10 Midi Foot Controller
- Line 6 Echo Pro
- Line 6 DL4 (used on Honeybabysweetiedoll")
- Peavey Delta Stomp
- Demeter Tremulator
- Custom Audio Electronics Amp Selector / Router
- Eventide H3000/3500 Harmonizer
- H&H V800 Power Amplifier
- Lexicon PCM-70 Reverb
- Palmer Speaker Simulator
- Rockman Smart Gate Noise Gate
- Roland SDE-3000 Digital Delay
- Furman P-3600 AR G Power Conditioners
- Monster Pro 2500 Power Center
- Digitech Whammy pedal
- MXR Analog Chorus pedal (listed as user on Dunlop site. Using on tour.)
- G-Lab PB-1
- custom made box by Dave Friedman (boosts the signal)
- custom made EVH six-loop non-MIDI foot controller
Strings, Picks, Accessories

- EVH Premium Electric Strings 9-46
- very light strings 9-11-15-24-32-40 Ernie Ball made custom 5150 pure nickel sets while Eddie endorsed them
- EVH Premium Electric Guitar Cable
- EVH Premium Signature Picks
- EVH Premium Guitar Strap
Go to the next page for pictures of Eddie Van Halen's Guitar Rig
Thanks to Robert_Rex_Jackson for giving UberProAudio permission to use one of his photo's of Eddie Van Halen's pedalboard (taken in 1998). Check out the pic below (the one with the pedals ;)
Click the images to enlarge them fullsize in a shadowbox.