Page 1 of 2
Edward Van Halen is a guitar player who needs no introduction. He helped create modern electric guitar playing. Eddie was a legend of guitar, blazing a path for many of the world's best guitarist. We did a lot of research here to see what Eddie Van Halen's guitar gear and rig has looked like over the years. Let's look at some of the guitar equipment gear that Eddie had been seen using during his long and storied career with the rock and roll band Van Halen. The guitar gear that follows covers gear from the Van Halen "Brown Sound" days to much later in his career, when he was producing his own guitars, amps, and pedals under the EVH brand.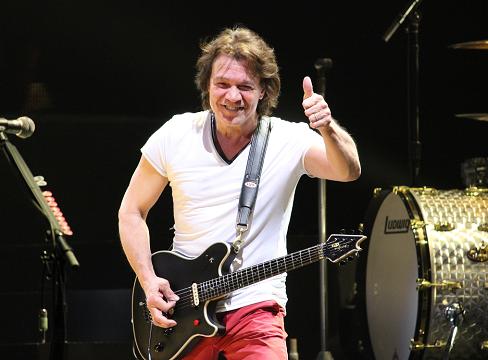 Click the gear images for more info and specs at Guitar Center and Amazon

As you scroll through this page, you'll learn about the different guitar gear that Eddie Van Halen has used. There's quite a lot of guitar gear to check out here. First, here's a curated list of a few of our favorite pieces of gear that have been in Eddie's guitar rig. We are particularly fond of the EVH signature guitar gear that bares his name; Eddie's guitar tech has been quoted in Guitar World as saying "Ed has direct input into every EVH product...and insists that anyone who buys a piece of gear with his name on it gets the same gear that he uses."

Favorite Eddie Van Halen Guitars

The EVH guitars are a big favorite here at UPA. Ed made a ton of really cool signature guitars with EVH, including a variety of the Wolfgang models, the Shark model guitar, a variety of striped guitars, the Bumblebee guitar, and more. These guitars do a great job of capturing the essence of Eddie. They look great, are great playing and sounding signature guitars. Would look equally great hanging on your wall or on stage in front of 50,000 Van Halen concert fans.

Favorite Eddie Van Halen Guitar Amplifiers

The EVH 5150 III amp are definitely some of the coolest amplifiers that Eddie has used. The all white version of the 5150 amp is an eye catching piece of gear and has been seen on many other famous musician's guitar rigs also. The Marshall head he used comes in a close second in our book, but the fact that the 5150 III amp was developed to meet the exacting specifications of Van Halen himself makes it our fav.

Favorite Eddie Van Halen Guitar Effects


Eddie had multiple guitar effects pedals made under the EVH name. If we had to pick just one, the MXR EVH Eddie Van Halen Phase 90 was designed to get the warm, hypnotic tone of the MXR "script logo" Phase 90 that Ed used all over the early Van Halen records. Pretty much a must have in your rig if you are a fan - it's on our pedalboard here at UPA.

Favorite Eddie Van Halen Guitar Accessories


Geez, if we had to pick just one here, it would be the EVH Premium Electric Guitar Strings. They are same gauges as what Eddie Van Halen used on his guitars, so it's hard to beat that  gear, though the EVH picks are pretty cool too.
Eddie Van Halen's Guitars
- EVH "Frankie" guitar from the striped series . This guitar is a replica of the famous Frankenstein guitar - perhaps one of the most iconic electric guitars in history.

The EVH Wolfgang guitars (Ed put tons of work into making this guitar the perfect guitar for him)
- EVH Wolfgang USA electric guitars

- EVH Wolfgang Special electric guitars

- EVH Wolfgang Standard electric guitars

- EVH Shark striped electric guitar. This is modeled after the original shark guitar that Eddie Van Halen had crafted by "when Eddie took his angular offset axe and sawed a chunk out of the body, leaving jagged edges in the wood that resembled teeth". Van Halen's shark guitar was initially seen live during the first Van Halen World Tour in 1978, but became more widely known and loved by fans after appearing on the back cover of Van Halen's 1980 album, Women and Children First. Interstingly this guitar was supposedly used heavily on the first Van Album record. The original guitar was actually a white colored mid-70's Ibanez Destroyer which was similar styling to a Gibson Explorer. Easily one of the coolest guitars in rock history.

- EVH striped series guitar - this one looks like the famous frankenstein guitar with the cool striped paint but is a bit more affordable guitar version that Van Halen made compared to the higher priced replica model

- EVH '79 Bumblebee electric guitar. Brace yourself - the price on this replica guitar is staggering, but it's one of the ultimate guitars to have on your wall if you are a true Van Halen fan. This guitar is an exact replica of Eddie Van Halen's original Bumblebee electric guitar which made its official debut on the cover of the 1979 album Van Halen II. Only 50 of these guitars were made - a true collectors guitar. Here's the details of the guitar over on the EVH site.
* Interesting Fact: Eddie's original Bumblebee electric guitar was buried with Pantera guitarist "Dimebag" Darrell Abbott.
- Teisco Del Ray electric guitar (his first guitar, which he bought for $70 when he was a kid)
- Charvel Guitars (they made ones with EVH art too)
- Kramer Guitars
- Ernie Ball / Musicman Guitars
- Peavy Wolfgang Guitar
- Steinberger TransTrem
- Fender Strats and Telecasters
- Gibson 1958 Korina wood Flying V

- Coral Sitar
- Gibson 1952 gold-top Les Paul electric guitar
- Gibson 6/12 string double neck

 EVH D-Tuna Drop D tuning system



 Note: You can now buy the Frankenstein pickups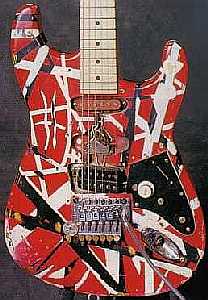 Eddie Van Halen's Amps and Cabinets
- EVH 5150 III amp heads - 100 watt and 50 watt models

- EVH 5150 III 4x12" and 2x12" cabs
- Marshall 100-watt Super Lead. Van Halen's Marshall amp was a very significant part of his early guitar tone. This amp was used in the studio for our favorite early Van Halen records. Eddie ran this amp cranked. Eddie used an Ohmite Variac with this amp to to manually adjust the line voltage. Premier Guitar did a nice little writeup about the Variac and the Brown Sound.

- Soldano SLO-100. Used between the Marshall and 5150 time. Used on For Unlawful Carnal Knowledge album.

- Peavey 5150 and Peavey 5150 II
- Peavey 6505 and 6505+ (the newer version of the 5150 after eddie stopped endorsing)
- Celestion 12" G12EVH Eddie Van Halen Speakers
- H&H V800 Power Amps
- EVH 5150 III LBXII 15W Tube Guitar Amp Head

Eddie Van Halen's Guitar Effects and Rack Gear

- MXR EVH 5150 Overdrive pedal

- MXR EVH 5150 Chorus pedal

- Dunlop Eddie Van Halen Signature Wah (based on Eddie's customized original crybaby)
- Dunlop Original CryBaby Wah Pedal
- MXR EVH Phase 90 Phaser. Eddie used a Phase 90 in the 70's, and his signature model recreates that tone and more.
- MXR EVH-117 Stereo Flanger
- MXR Custom Smart Gate Pro
- Boss OC-3 Super Octave

- Boss SD-1 Super Overdrive

- Boss CE-5 Chorus Ensemble guitar pedal

- Custom Audio Electronics RS-10 Midi Foot Controller
- Line 6 Echo Pro
- Line 6 DL4 (used on Honeybabysweetiedoll")
- Peavey Delta Stomp
- Demeter Tremulator
- Custom Audio Electronics Amp Selector / Router
- Eventide H3000/3500 Harmonizer
- H&H V800 Power Amplifier
- Lexicon PCM-70 Reverb

- Palmer Speaker Simulator
- Rockman Smart Gate Noise Gate
- Roland SDE-3000 Digital Delay
- Furman P-3600 AR G Power Conditioners
- Monster Pro 2500 Power Center
- Digitech Whammy pedal

- MXR Analog Chorus pedal (listed as user on Dunlop site. Using on tour.)
- G-Lab PB-1
- custom made box by Dave Friedman (boosts the signal)
- custom made EVH six-loop non-MIDI foot controller
- Univox echo unit, used back in late 1970's
Eddie Van Halen's Strings, Picks, and Guitar Accessories

- EVH Premium Electric Strings 9-46

- very light strings 9-11-15-24-32-40 Ernie Ball made custom 5150 pure nickel sets while Eddie endorsed them
- EVH Premium Electric Guitar Cable

- EVH Premium Signature Picks
- EVH Premium Guitar Strap

- Shure SM57 microphones, which were used to capture his guitar tone in the studio
Eddie Van Halen Informational Resources
- Here's an awesome interview that Guitar Player did with Eddie back in 1978. In this interview, Van Halen really gives a glimpse of the exact gear he was using back in 1978 - we are talking guitars, amps, effects, and more guitar gear of his, live and studio. Ed discusses some of the his and the bands history and some different techniques used in the studio. What's really fascinating is Eddie talking about his Frankenstein guitar - he says that he got the body for $50 and the neck for $80 and used various guitar parts he had. Pretty wild to think how much the replicas cost now!
- Wow, this is a crazy cool article that Eddie Van Halen did with Popular Mechanics. All we have to say, is did you know that Eddie Van Halen holds a patent for a device that is like a bracket that swings down from the back of the guitar, supporting it at a 90-degree angle from your body and letting you play the instrument like a lap guitar?!?!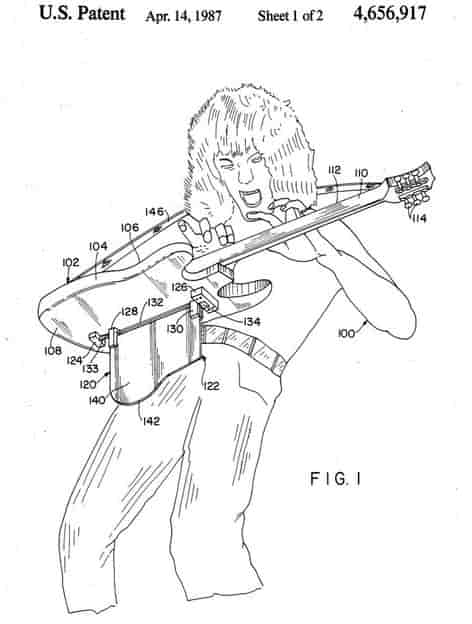 - Great article by Guitar World that really gets into the gear that Eddie was using around 2015-2016 era. Probably one of the coolest things in the article is that they have the pedal settings that Eddie was using in his guitar rig.
- Eddie once brought his Marshall guitar amp to Michael Soldano to be retubed. When Soldano opened the amp, he observed that Eddie's Marshall amp was not modified at all and appeared stock! Soldano loaned Eddie an SLO-100 amp, which Eddie liked so much he bought. Check this magical video out at minute 7:00 to hear the story straight from Soldano!
Go to the next page for pictures of Eddie Van Halen's Guitar Rig