Wolfgang Van Halen, son of Eddie Van Halen, plays bass in the rock band Van Halen. Wolfgang has also played bass guitar with Mark Tremonti's band. Wolfgang also more recently has begun a solo career, working on an album in which he plays all the instruments along with the vocals.

Let's take a look at some of the gear and equipment that has been seen in Woflgang's bass rig. Also check out our page with Eddie Van Halen's Guitar Rig Gear, Amps, Effect pedals and more too.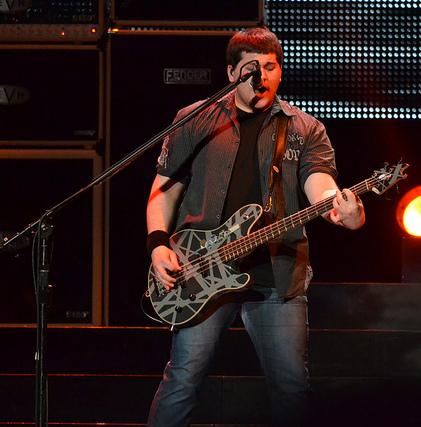 Click the gear images for more info and specs at Guitar Center and Amazon

Wolfgang Van Halen's Bass Strings and Picks

- D'Addario EXL165 Nickel Wound Bass Custom Light Bass Strings

- D'Addario ENR71 Half Round Regular Light Bass Strings

- Dunlop custom printed picks, white colored. Wolfgang gives multiple good looks at this guitar pick.
 https://www.instagram.com/p/BRHQB33BZ-n/
Wolfgang Van Halen's Basses and Guitars

In 2011, Chip Ellis, the master builder at EVH guitars built a couple Wolfgang prototype bass guitars. In a 2015 bass interview that Wolfgang did with MusicRadar, Wolfgang had said that they were working on bringing the Wolfgang Van Halen bass guitar to market, however we haven't noticed it for sale....yet, at least.
- EVH Wolfgang Stealth prototype (Chip Ellis built, black, gray stripes, rosewood, Fender N3 Nosieless Jazz pickups). Here's a nice picture that Wolfgang shared of this Wolfgang Bass Guitar:
https://www.instagram.com/p/CAG1cI9lm3V/
- EVH Wolfgang bass (black, yellow stripes, ebony fretboard, Fender N3 Nosieless Jazz pickups)
- Chip Ellis built "Frankenbass" (EMG pickups)
- custom 'Wolfenstein' J-Bass, blue with white and black Frankenstein graphic
- vintage 1974 Sunburst Fender Jazz was his first bass (it was his dad's)

- Jackson J Bass (backup)
- Hipshot tuner on the basses
- G6131-MY Malcolm Young Signature Jet. As Wolfgang said on his Wolfgang Van Halen's Instagram, AC/DC was one of his influences and he had to have this guitar in his collection.

- EVH Wolfgang Guitars. He showed one of his that was black colored with white binding, hardtail no tremolo. It appears to be an EVH Wolfgang Custom Deluxe model. His first one looked like a USA model Eddie Van Halen signature model in black.
- Wolfgang has a Dan Armostrong plexi guitar and a bass model in his collection. These are cool looking see through, clear guitars.
- Wolfgang has multiple Gibson 335 semi-hollow electric guitars in his collection that he plays along with 335-S solid body guitars from Gibson.

- D'Angelico Mott Bass with futone Brass Bridge Pins. Wolfgang described this acoustic bass as "One of the best acoustic basses I've ever played".
Wolfgang Van Halen's Amps and Cabinets
- EVH 5150 III heads (for his bass overdrive tone. He also uses them with his guitar rig too.)



- Fender 8x10 Pro cabs (white)

- EVH 5150 4x12 cabs (white)
- Fender 2x15 cabinets (white)
Wolfgang posted a 2016 picture of his backline. There are six EVH 5150 III heads along with two Fender Super Bassman heads, and a ton of cabinets!
https://www.instagram.com/p/BEMott9GfeZ/
Wolfgang Van Halen's Bass Effects and other Bass Gear
- EVH 5150 Overdrive pedal. Wolfgang said this "pedal kicks so much a#$"

- Radial JD7

- Whirlwind MultiSelector rack unit. Used for quick changes between wireless packs on his basses
- Furman PL Plus Power conditioner rack unit

- Shure UR4D wireless
- RJM MasterMind MIDI controller, RJM Amp Gizmo, and RJM Effects Gizmo
- Dunlop Bass Crybaby wah pedal. This effect pedal sits on his pedalboard on stage with him
- Whirlwind A/B selector

- Strymon Time Line dealy
- MXR EVH Flanger
- MXR EVH Phase 90
- MXR Fullbore Metal pedal

- Electro-Harmonix Micro POG effects pedal
- Way Huge Pork Loin pedal

- G-Lab PB-1 power supply
- Boss TU-3 tuner pedal. There's a pciture from 2015 that Wolfgang (and D'Addario) posted that was of his bass near a soldering iron and a Boss tuner pedal.
- EVH guitar straps

Premier Guitar captured some awesome pictures of Wolfgang's Bass Rig along with Eddie's Guitar Rig Gear back in 2012 when Van Halen was on tour. Scroll through those pictures and you'll see that Wolfgang had the yellow and black Wolfgang bass, along with the red/white/black Van Halen patterned Frankenbass.There's a picture of Wolfgang's bass rack also with some of the pedals and rack gear listed above.
Checkout this great little interview video that Tremonti posted that has Wolfgang talking about his bass guitar that he uses in his rig. Wolfgang starts by saying that he uses the Fender Super Bassman amp heads. Sometimes he uses the EVH 5150 III heads for dirt sounds. Wolfgang goes on to talk about some of his musical influences that include bands such as Tool. Wolfgang also shares the story of how he got involved with the Tremonti band.