Lzzy Hale plays guitar and sings in the popular rock band Halestorm.

Let's take a look at some of the gear and equipment that has been seen in Lzzy's guitar rig.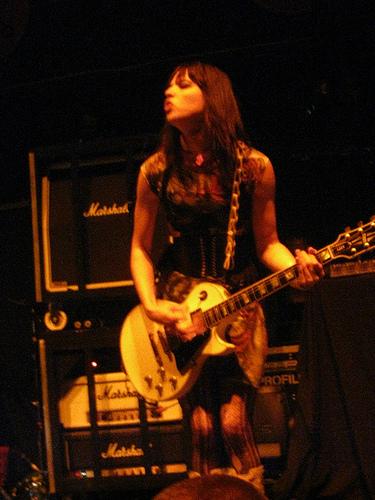 Click the gear images for more info and specs at Guitar Center and Amazon

Guitars
- Gibson Explorer

- Gibson Les Paul Custom (white. Gift from father)

- Gibson Tribal Flying V (Limited Edition)
- Gibson Joan Jett Melody Maker (regular model pic below)

- Gibson Firebird V (gift from Jasin Todd)
- BC Rich Mockingbird (first guitar)

- Gibson Reverse Flying V
- Gibson Les Paul Custom (silverburst)
- Marshall JCM800 amps
- EVH 5150 III amps
- Custom 1959RR Marshall Randy Rhoads 100-watt amp (white) (1959 SLP pic below)
- Marshall 1960 4x12 cabinets






Effects
- MXR MC-401 Line Boost/Driver pedal

- Dunlop Jerry Cantrell wah pedal
- MXR Zakk Wylde Overdrive

- THD Hot Plate
- Boss Tuner pedal
- MXR Carbon Copy
- Dunlop DCB-10 Brick power





Strings and Picks
- Dunlop DEN1150 strings

- Dunlop Tortex 1.14mm guitar picks
- SIT guitar strings
Go to the next page for picture(s) of Lzzy's guitar rig.
The following image is by Razvan.Orendovici. Creative Commons Attribution 2.0 Generic licensed. You can see Lzzy Hale's Randy Rhoads marshall amp, cabinets, and some of the other band members amps, including a JCM 800. The pic is from April 2009.
Click the image to enlarge to full size.