Page 1 of 2
Gaz Coombes is an English musician who is the lead vocalist and guitarist of the English alternative rock band, Supergrass.

Let's take a look at some of the gear and equipment that has been seen in Coombes' guitar rig.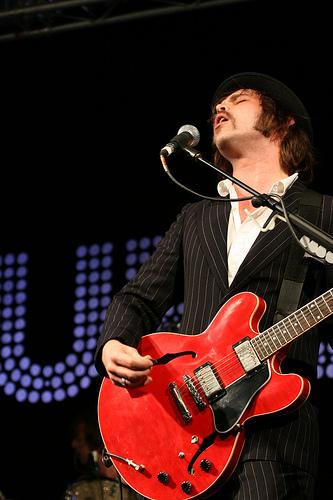 Click the gear images for more info and specs at Guitar Center and Amazon

Research and Rig submitted by Jeremy McDonough (researched photos, live video, and witness accounts).



Guitars
- Various Vintage Burns Guitars (1 green  w/ Piezo bridge pickups)
- Gibson SG (red)



- Fender Telecaster (blue w/ one humbucker and one lipstick pickup)
- Gibson ES-333
- Gibson ES-335 (x2 One sunburst, One red w/ two toggle switches)

- Rezo Bridge tube pickups




Amps
- Marshall JCM-900 head
- Orange AD-30 HTC head

- Vox AC-30 amplifier
- Blackstar Artisan 30 combo

- Mesa V-Twin
- Fender Bassman reissue 4x10
- Fender Twin Reverb 2x12

- Laney amps



Cabs
- Marshall 4x12 and 2x12 cabinets



- Orange 4x12 and 2x12 cabinets






Effects and More
- Boss SD-1 pedal

- Boss OC-3 pedal

- Boss AC-2 (Said to be used for "Moving")
- Boss GE-7 pedal
- Boss DD-3 pedal
- Boss Chromatic Tuner pedal OR Boss TU-12 Tuner
- Boss CS-2 pedal
- Boss BD-2 pedal
- Dunlop Crybaby wah
- Digitech Whammy Pedal

- Marshall Shred Master
- ZVex Fuzz Factory
- EHX Small Stone phase
- Proco Rat pedal
- Morely A/B switching

- MXR Phaser
- EHX Hot Tubes
- Ebow

- Ernie Ball black guitar strap
- grey guitar picks
Go to the next page for picture(s) of Gaz's guitar rig!