Page 1 of 2
Mike Stern is an American jazz guitarist. Stern has played with many greats including Miles Davis' comeback band, saxophonists George Coleman and Joe Henderson, bassist Jaco Pastorius, guitarists Jim Hall and Pat Martino, trumpeters Tom Harrell, Arturo Sandoval and Tiger Okoshi and saxophonists Michael Brecker, Bob Berg and David Sanborn as well as Steps Ahead and the Brecker Brothers Band.

Let's take a look at some of the guitar gear and equipment that Mike has been seen using in his guitar rig.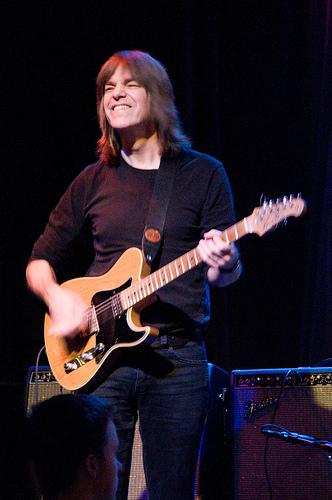 Click the gear images for more info and specs at Guitar Center and Amazon

Guitars
- Yamaha Pacifica 1511MS Signature guitar Mike Stern signature (Seymour Duncan '59 in neck, Seymour Duncan Tele Hot Rail in bridge)

- custom Aronson tele style guitar



Amps
- blackface '65 Fender Twin Reverb reissue amplifiers

- Yamaha G100 2x12 combo
- Pearce head into 2 custom 2x10 cabs with JBL Speakers




Effects
- Boss DS-1 Distortion
- Boss DD-3 Delay pedals (x2)
- Yamaha SPX90 (used as a splitter and chorus)
- Boss OC-2 Octaver pedal

- Boss TU-2 tuner
- Boss PSM-5 Power Supply
- Keeley-modded Boss SD-1 Super OverDrive pedal

- Digitech Multi Chorus




Strings and Picks
- Fender Medium Guitar Picks
- Fender Original 150 Pure Nickel strings, (.010, .013, .015, .026, .032, .038, with the .010 replaced with a .011)
Go to the next page for cool pictures of Mike's guitar rig!