Page 1 of 2
Stephen O'Malley is a member of Sunn O))), is an American experimental band that incorporates some elements of the ambient, noise and black metal genres. The band is actually partly named after the Sunn brand amplifier, which helps them get their sound.

Let's take a look at some of the gear and equipment that has been seen in O'Malley's guitar/bass rig.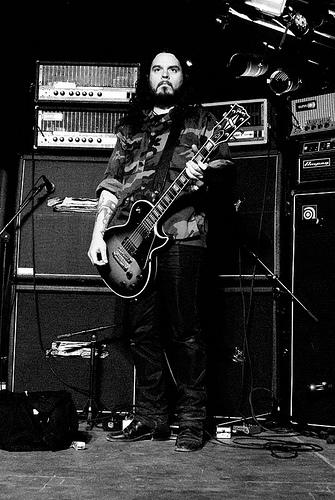 Click the gear images for more info and specs at Guitar Center and Amazon

Guitars
- Travis Bean TB-1000 Standard (tuning is open-A baritone)
- Gibson Les Paul Custom Silverburst




Amps and Cabinets
- Sunn Model-T amplifer heads (from the 70's)
- Ampeg SVT-2 amplifier head

- Ampeg 8x10 cabs
- Hiwatt or Marshall 4x12 cabs

- Emperor 4x12 cabs





Effects
- Pro Co Rat pedals (x2)
- Sanford & Sonny BlueBeard Fuzz
- Ernie Ball volume pedal
- Boss TU-2 tuner pedal
- Boomerang Loopers (x2)

- MXR Blue Box
- Electro Harmonix Holy Grail




Strings
- Various brands, gauges .17, .24, .36 wound, .48, .56, .68
Go to the next page for pictures of Stephen's guitar rig.