Page 1 of 2
Myles Kennedy is the lead vocalist and rhythm guitarist for the band Alter Bridge (along with Mark Tremonti). Myles also has played with Citizen Swing and The Mayfield Four.

Let's take a look at some of the gear and equipment that has been seen in Kennedy's guitar rig.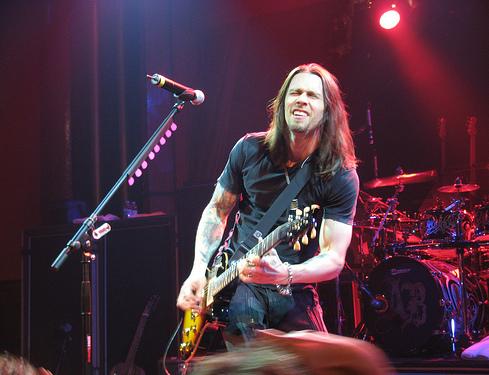 Click the gear images for more info and specs at Guitar Center and Amazon

Guitars
- Paul Reed Smith Tri-Color Sunburst SC 245 Flame Maple Top and Stoptail Electric Guitar(Seymour Duncan Custom Custom pickups)

- PRS Modern Eagle (Custom Custom pickup)

- PRS McCarty - black with Screaming Demon pickup ("The Mule") and a red one

- PRS Hollowbody - black

- PRS SC 250 - black (Custom Custom pickup in bridge)
- Dean Heirloom Resonator Guitar (For when he covers Robert Johnson's "Traveling Riverside Blues")
- Taylor Acoustic Guitars
- '67 Gibson SG (with a P90)
- '67 Gibson ES-335

- PRS Angelus acoustic

- PRS Private Stock Signature Guitar (very limited run made)
- PRS Mira (red)

Amps and Cabinets
- Mesa Boogie Mark IV Amp Head

- Diezel Herbert Amp Head

- Mesa Boogie Lonestar
- Mesa Boogie Roadster Head
- Mesa Boogie cabs (4x12 Recto Slant and 4x12 Recto Straight)

- Mesa Mark II
- Myles has also said in an interview he also likes Marshalls, Matchless, and Orange (used sometimes in the studio)




Effects and More
- Boss TU-2 Chromatic Stompbox Tuner
- Digital Music Ground Control Pro MIDI Foot Controller
- Digital Music GCX Guitar Audio Switcher
- Fulltone Clyde Wah pedal
- Fulltone MDV Mini DejaVibe Vibe/Chorus Pedal
- Fulltone UO Guitar Effect Ultimate Octave

- Line 6 DL4 Delay Guitar Effects Pedal
- Line 6 MM4 Modulation Guitar Effects Pedal

- Radial Tonebone JX-2 Pro Switchbone

- Shure UHF Wireless System
- TC Electronic M-One XL Effects Processor

- TC Electronic Corona Chorus
- Mojo Hand FX Rook Overdrive pedal





Strings and Picks
- custom gauge D'Addario strings (11-52) and (11-62)
- Dunlop 1.14mm Picks
Go to the next page for awesome pictures of Myles Kennedy's guitar rig gear.