Page 1 of 2
Paul Mahon is the guitar player in the Irish hard rock band The Answer. The band has had a song in the Guitar Hero game and is really well known as the opening act for AC/DC's tour.

Let's take a look at some of the gear and equipment that has been seen in Paul's guitar rig.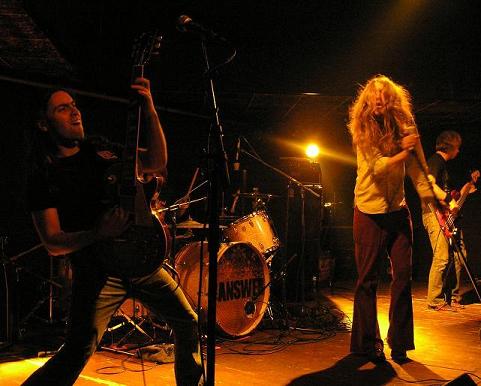 Click the gear images for more info and specs at Guitar Center and Amazon


Guitars
- Gibson Les Paul Standard and Classic (2000) guitars
- Fender standard Telecaster (Hot Rails in bridge)




- Paul Reed Smiths (used in studio)
- Zemaitis guitars (used for slide)
- Gibson Les Paul Double Cutaway (previously used for slide)





Pickups
- According to EMG site, H1A, H2, and an 85/60 Chrome set






Amps
- Marshall Vintage Modern 2266 and 2466 amplifier heads
- Marshall JTM45 (recording)
- Soldano, Ampeg, and Supro (used in some recordings)
- Marshall JCM2000 TSL (used on Rise album)
- Mesa-Boogie Dual Rectifier Mark II (used on Rise album)
- Marshall JCM 800 (used on Rise album)
- Vox AC30 (used on Rise album)




Effects
- Blackstar HT-DUAL and HT-DIST (as reported on Blackstar site in 2007)
- Boss Digital Delay pedals
- Love Tone pedals (Doppelganger and more)
- Power Bank AC/DC
- Boss TR-2 Tremelo
- Boss TU-2
- Boss Equalizer GE-7 pedal
Go to the next page for pictures of Paul  Mahon's guitar rig!