Bradford Cox sings and plays guitar (in addition to a lot of other instruments) in the bands Deerhunter and Atlas Sound.

Let's take a look at some of the gear and equipment that Cox has been seen using in his guitar rig.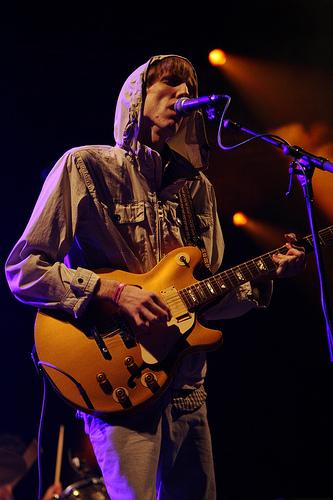 Click the gear images for more info and specs at Guitar Center and Amazon

Guitars
- Fender Jaguar

- Fender Jazzmaster

- Gibson Les Paul Signature Semi-Hollow body
- Fender Stratocasters








Amps
- A variety of Fender amps, including Fender Hot Rod DeVille 410






Effects
- Line 6 DL4
- Digitech DigiDelay pedal
- DigiTech DigiVerb Digital Reverb Pedal
- Boss DS-1
- MXR Distortion +
- Boss TU-2
- Ibanez AD-9 Delay
- Roland SP-404
- Boss SL-20 Slicer

- Homebrew Electronics Tweed Power Screamer
- Boss SD-1 pedal

- Behringer Reverb Machine Rv600
- Ibanez DE7
- Eventide Pitchfactor
Go to the next page for awesome pictures of Cox's guitar rig.
The following pedal pictures are from Edward Lund (Legendary Classic on flickr) and are licensed under Creative Commons Attribution 2.0 Generic. Great pictures of Bradford Cox's pedalboard. Nice rig!
Click the pics to enlarge them fullsize in a shadowbox.