Page 1 of 2
Stephen Ramsay is the vocalist and guitar player in the band Young Galaxy, which is a Canadian indie pop/dream pop band.

Let's take a look at some of the gear and equipment that Stephen has been seen using in his Young Galaxy guitar rig.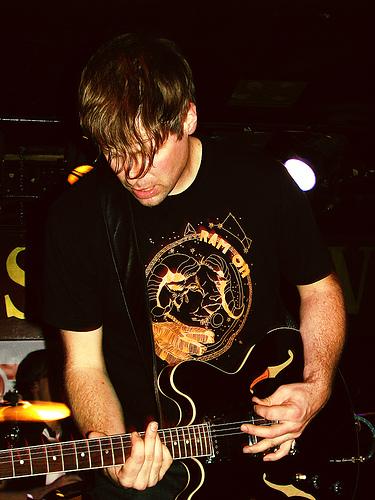 Click the gear images for more info and specs at Guitar Center and Amazon

Guitars
- Gibson ES-335 (black)

- Fender Telecaster (creme with maple neck, lefty)

- Art & Lutherie acoustic guitar



Amps
- Vox AC30 amplifier




Effects
- Electro Harmonix POG
- Electro Harmonix Holy Grail Reverb
- Line 6 DL4
- Boss TU-2
- MXR Micro Amp
- Boss Super Chorus pedal
- Boss VB-2 Vibrato pedal (dark blue pedal)
- Empress Tremolo pedal (orange pedal)



Picks
- Dunlop Tortex (yellow)
Go to the next page for excellent picture(s) of Stephen's guitar rig.