Page 1 of 2
Tad Kubler is an American guitarist who plays lead guitar in the band The Hold Steady. Tad also has been a bass player in the band Lifter Puller.

Let's look at some of the gear and equipment that has been seen in Tad's guitar rig.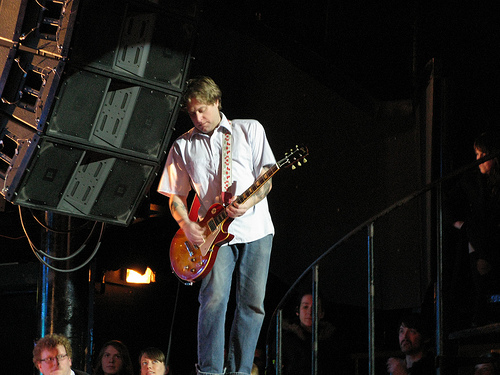 Click the gear images for more info and specs at Guitar Center and Amazon

Guitars
- Gibson Les Paul Standard

- Gibson SG

- Gibson Les Paul Junior

- Gibson ES-335

- Gibson Les Paul goldtop with P90 pickups
- Gibson double neck SG (red, 12 string/ 6 string)






Amps
- Epiphone Blues Custom 30 watt 2x12 amplifiers






Effects and More
We've seen quite a few picture of Tad's pedalboard - here are the various pedals that have made their way onto it at one point or another.
- Boss TU-2
- Boss GE-7
- Boss BD-2
- Boss RV-5
- Boss OC-2

- Boss TR-2
- Boss DD-6
- Boss FZ-5

- Boss HF-2 HighBand Flanger
- Boss PH-3 Phase Shifter
- Dunlop Crybaby Wah pedal
- Ernie Ball volume pedal

- MXR Custom Audio Electronics MC-401 Boost Pedal

- MXR Distortion +
- MXR Ten Band EQ M108
- MXR EVH Phase 90 and/or MXR Phase 90
- T-Rex Replica pedal
- T-Rex Fuel Tank Power supply

Go to the next page for great pictures of Tad's guitar rig.