Howie Day is an American singer-songwriter. Day has been known for his extensive touring and in-concert use of samplers and effects pedals in order to accompany himself.

Interestingly, Howie has one pedalboard that has effects he uses for his vocals, and another pedalboard that has the effects for his guitar.

Let's look at some of the gear and equipment that has been seen in Howie Day's guitar rig.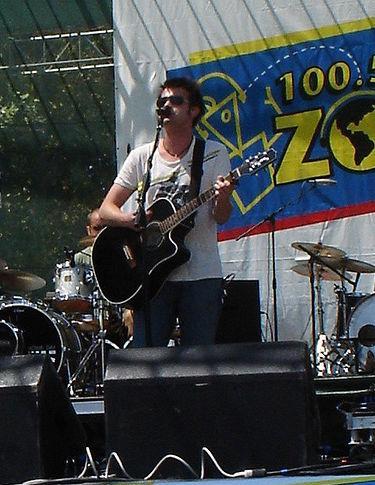 Click the gear images for more info and specs at Guitar Center and Amazon

Guitars
- Takamine ESF-40C  Santa Fe model (6 string with the turquoise eagle inlay on the 12th fret) This model no longer made.
- Takamine EAN-40C12 (12 string)
- Takamine Keystone EF341DLX (black, Limited Edition)




Guitar Effects
- July 2011 Howie said he started using the Line 6 M9
- Ebow
- Boss DD-5 pedal
- Line 6 DL-4
- Little Labs Red Eye
- Voodoo Lab Pedal Power
- Maxon OD808
- Boss AW3
- Boss TU-2
- Boss Octave pedal
- Boss FS-5U




Vocal Effects
- Voodoo Lab Pedal Power
- Whirlwind A/B Selector
- Boss DD-3 and DD-5 pedals
- Boss TR-2 pedal
- Boss GE-7 pedal
- Line 6 DL-4




Strings and Picks
- D'addario strings
- Dunlop Tortex yellow picks



Go to the next page for great pictures of Howie Day's guitar rig.
Big thanks to rockinfreakpotomous for providing us with some photos of Howie Day's pedalboards.  The photos are from 3/2009.
Note that the picture with the Ebow sitting on it is Howie's guitar pedalboard, while the other picture is the vocal pedalboard.
Click the images to enlarge them fullsize in a shadowbox.