Page 1 of 2
Jonathan Schneck is a guitarist, banjo player, and bell player for the Christian rock band Relient K. He was a touring guitarist for Christian rock band Audio Adrenaline before he joined Relient K.

Let's tlook at some of the gear and equipment that has been seen in Jonathan's guitar rig.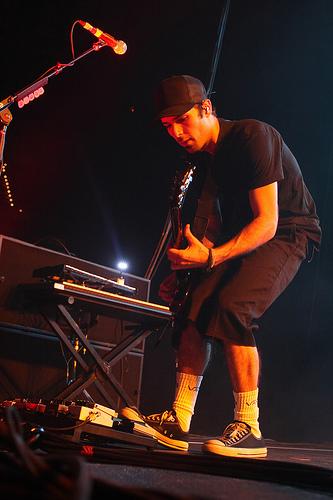 Click the gear images for more info and specs at Guitar Center and Amazon

Guitars
- PRS Standard Satin guitars (black, red stain)
- PRS Johnny Hiland signature model
- PRS SC 245 10 top and SC-245 Platinum guitars

- PRS SE Soapbar (red)
- PRS Hollowbody I (gold. Hollowbody 2 pic blow)

- PRS SC-250 Goldtop
- PRS Mira

- Gibson 1977 Les Paul Standard (dark red)
- Gibson Melody Maker (black)

- Gibson SG Standard (dark red/brown)

- Gibson b-25 acoustic (mid 60s)
- Fender American Telecaster (3 tone sunburst, rosewood)

- Fender American strat (maple neck, white)
- Fender Squire MIJ strat (white, 80's)
- Fender Banjo (LR Baggs banjo pickup)
- Baden D-style Mahogany acoustic Dreadnaught
- Epiphone Masterbuilt acoustic
- Epiphone mandolin
- Ovation Ultra Deluxe model acoustic
- RelientK PRS SE One guitars


Amps and Cabinets
- Marshall JCM800 into PRS 2x12 cabinet (seen playing end of 2012)
- Peavey JSX 2x12 combo amplifier and JSX straight cab
 - PRS Sweet 16 Head through Epiphone 1x12 cab

- Peavey Penta series head and 4x12 cab with Celestion g1275s
- Fender Twin Reverb

- Marshall 1960A 4x12 cab




Effects and More
- Line 6 Pod HD500 (seen playing late 2012)

- Peavey Pro Comm wireless guitar system
- Boss LS-2 pedal
- Boss Super Feedbacker and Distortion DF-2
- Boss PH-2 Phaser pedal
- Ibanez BC-9 Chorus pedal
- Visual Sound Jekyll & Hyde Ultimate Overdrive

- ProCo Rat pedal
- Ernie Ball Volume Jr pedal
- Boss DS-1
- Fulltone OCD
- MXR Phase 90
- Boss TU-2 tuner
- Boss Digital Reverb pedal
- Boss OC-3 Octave

- Boss TR-2 Tremolo
- Fulltone Full Drive 2
- Boss FS-5U

- Boss DD-5 delay




Other
- A variety of Slides
- Dunlop Tortex Yellow .73mm picks
Go to the next page for picture(s) of Jonathan's guitar rig.