Page 1 of 2
Rab Allan plays guitar and lead vocals in the Scottish alternative rock band band Glasvegas, that formed in Glasgow.

Let's look at some of the gear and equipment that has been seen in Rab's Glasvegas guitar rig.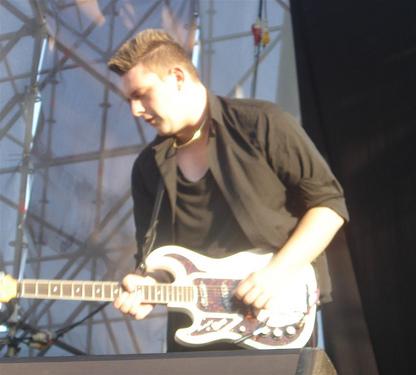 Click the gear images for more info and specs at Guitar Center and Amazon

Guitars
- Burns London electric guitars (left-handed models)




Amps
- Fender Blues DeVille 410

- Fender Hot Rod Deville






Effects
- Line 6 DL4
- Boss TU-2 pedal
- Boss LS-2 Line Selector
- Boss Super Overdrive

- Line 6 DM-4
- Electro Harmonix HOG with HOG footswitch




- Electro Harmonix Deluxe Memory Man

- Electro Harmonix Holiest Grail pedal





Picks
- Dunlop Green Tortex picks
Go to the next page for great pictures of Rab's guitar rig.