Thurston Moore is an American musician best known as a singer, songwriter and guitarist of Sonic Youth. He's participated in many solo and group collaborations outside of Sonic Youth, as well as running Ecstatic Peace! records.

There is planty of info out there (visit the sonic youth website) on the gear Sonic Youth used in the past, but there isn't too much about more recent gear. Let's focus on Thurston's guitar rig from say 2005 on, and make this THE spot for the newer info.

Let's look at some of the gear and equipment that has been seen in Thurston's post-2005 guitar rig.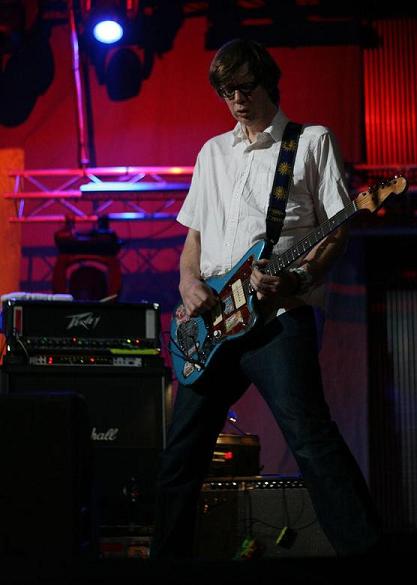 Click the gear images for more info and specs at Guitar Center and Amazon

Guitars
- Fender Thurston Moore Jazzmaster

- Fender Jazzmaster guitars

- Fender Acoustic guitar
- Blueridge acoustic guitar
- Other guitars (visit the Sonic Youth site for more info)



Amps and Cabinets
- Peavey Roadmaster head (Vintage Tube Series)
- Marshall JCM900 4x12 cab

- Mesa Boogie cab

- Fender Twin Reverb

- Fender Princeton (studio - Rather Ripped album)

- Fender Hot Rod Deville ? (see him with one live)





Effects and More
- Pro Co Turbo Rat
- Sovtek Big Muff
- MXR Phase 90
- Dunlop JH3S Jimi Hendrix Octave Fuzz
- vintage Mutron Wah/Vol pedal
- Ibanez AD-80 Analog Delay
- MXR Blue Box
- Korg DTR-1 rack tuner
- Boss TU-2 (not 100% positive on this)




Strings and Picks
- Ernie Ball guitar strings (Moore uses some wild gauges to accomodate his tunings)
- Jim Dunlop guitar picks (gray nylons and Green Tortex triangles, at least as seen on his guitar amp in pictures)



Interesting Fact: Thurston's guitars were stolen in 1999.
Go to the next page for awesome pictures of Thurston Moore's Sonic Youth guitar rig.
We have found alot of good pictures of Thurston Moore's Sonic Youth guitar rig (all Creative Commons licensed). You'll notice pedals, amps and cabs in the pics.
Click the Images to enlarge them fullzise in a shadowbox.
Photo Credits:
- The picture that is a tight shot of the pedalboard with the Mutron on the left is by Geenta. Creative Commons licensed.
- The picture of Thurston's pedals that have half his legs in the shot is by hhjack. Creative Commons licensed.
-  The picture of Thurston playing guitar is  by michael morel. C.C. Attribution 2.0 Generic license.
-  The picture of Moore doing something to his Amp is by iandavid. Creative Commons licensed.