Page 1 of 2
Greg Hill is the guitar player in the Grammy Award nominated rock band Mute Math (aka MuteMath). Mute Math is a New Orleans based band. An interesting aspect of Greg Hill's guitar rig is that he seems to "play" his pedalboard like an instrument at shows.

Let's look at some of the gear and equipment that has been seen in Greg Hill's Mute Math guitar rig.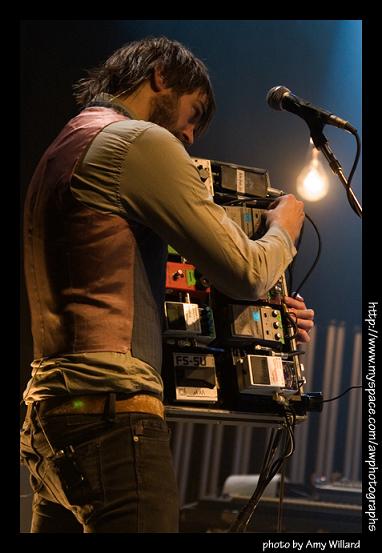 Click the gear images for more info and specs at Guitar Center and Amazon

Guitars
- Epiphone Sheraton II

- Gibson ES-335

- Fender Telecaster

- Gretsch Electromatic

- Silvertone 1454
- Danelectro U2 '56



Amps and Cabinets
- Vox AC30 combo amplifier
- Fender Blues Deluxe amplifier






Effects and More
- Boss TU-2 Tuner
- MXR M-102 Dyna Comp Compressor Pedal
- Ibanez DE7 Delay/Echo (x2)
- Boss DD-5 Digital Delay pedal
- Dunlop TS-1 Tremolo Stereo Pan
- Morley A/B/Y Switch

- Line 6 Tap Tremolo
- Electro Harmonix Holy Grail
- Boss FS-5U Foot Switch

- Voodoo Lab Pedal Power 2+
- Boss OC-3 Super Octave pedal

- MXR Carbon Copy Delay
- MXR Micro Amp
- Fender '63 Reverb unit
Go to the next page for awesome pictures of Greg Hill's guitar rig.