Page 1 of 2
Rob Cavestany is the founder and lead guitar player in the band Death Angel. Rob has also done other musical projects, like a solo cd.

Let's look at some of the gear and equipment that has been seen in Rob's guitar rig.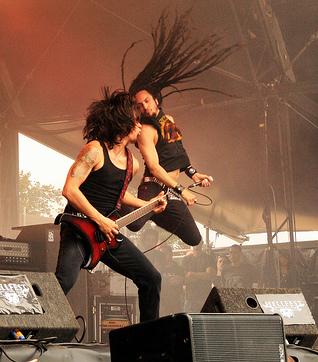 Click the gear images for more info and specs at Guitar Center and Amazon

Guitars
- Jackson Signature series guitars (orange dragon and red dragon)
- Gibson 1973 Les Paul Standard
- early-'90s Gibson SG

- 1982 Gibson Flying V

- early-'90s Martin D-1 (his favorite acoustic)
- Rob owns multiple other Jacksons: 
- 2 Custom Starbody Guitars (1985) & (1991)
- 1 Randy Rhoads RR1 (2008)
- 1 Soloist (Grover Jackson modified 1987)
- EMG pickups (60, 81, 85, and 89R (on his new guitar) model pickups)

Amps and Cabinets
- ENGL Tube Preamp 530 modern Rock

- ENGL 850/100 Tube Power Amp (drives the ENGL cabs)

- Engl cabinets

- 100-watt Marshall Triple Super Lead TSL-100
- Randall V2 amp and Randall cabinets with 100watt celestions

- Mesa/Boogie Dual Rectifier

- Marshall cabinets 4x12 straight front




Effects and More
Rob's 2011 Guitar pedals:
- Voodoo Lab Ground Control Pro
- Furman Power conditioner

- Voodoo Lab GCX unit
- MXR Phase 90
- MXR Wylde Black Label Chorus

- TC Electronic pedal power source
- MXR Custom Audio Electronics MC404 Wah pedal
- ISP Decimator pedal
- MXR Custom Audio Electronics MC-401 Boost

- MXR Carbon Copy pedals (x2)
- Line 6 X2 Wireless unit


Rob has also been seen using in the past:
- Marshall Footswitch
- Dunlop 535Q Wah
- Dunlop SW-95 Slash Wah

- MXR Phase 90 (EVH version)
- MXR M-159 Stereo Tremolo

- Boss Digital Delay pedal
- Furman Power Factor Pro R Rack Power Conditioner


Strings, Picks and More
- Dunlop guitar strap
- Dunlop Ultex Sharp 1.0mm custom printed guitar picks

- Dunlop Tortex picks
- Dean Markley strings gauges .010-.052


Go to the next page for awesome pictures of Rob's guitar rig!