Page 1 of 2
Michael "Padge" Paget is the lead guitar player and one of the founding members of the metal band Bullet for My Valentine. If you haven't had a chance to check out Bullet for My Valentine - do so - this band rocks!

Let's look at some of the gear and equipment that has been seen in Padge's guitar rig.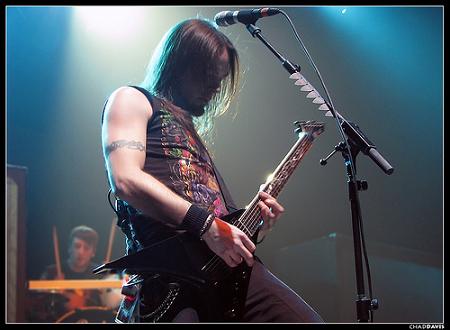 Click the gear images for more info and specs at Guitar Center and Amazon

Guitars
- ESP Michael Paget Signature guitars

- emg 81(bridge) and emg 85(neck) pickups

- ESP LTD EC-1000 VB

- ESP Ninja Michael Amott Signature
- ESP Dave Mustaine Seymour Duncans Taken out Replaced by EMG 81 & EMG 60
- ESP Eclipse one in vintage blbk The Other in Trans Cherry
- ESP Explorer black used at brixton
- Gibson Flying V white used at brixton

- Gibson Explorer used during the 2005 download fest

- Jackson RR5 PRO in BLBK
- Epiphone Zakk Wylde Les Paul Custom Bullseye (as stated by the band in a Guitar Edge Interview)
- Aria Pro II (one of his first guitars)
- ESP SV guitar
Amps and Cabinets
- Peavey 6505 amp heads
- Peavey JSX120 heads
- 2 Mesa Boogie Triple Rectifiers

- Roland JC-120 for clean sounds
- Mesa 300-watt 4x12 cabinets






Effects and More
- Dunlop SW-95 Slash wah

- Ibanez TS9 tube screamer

- Sound Sculpture ABCadabra midi a/b switcher
- Boss NS-2 noise suppressor
- Ebtech hum eliminator

- Boss TU2 chromatic tuner
- Roland mini foot controller operated by tech offstage
- Furman power conditioner
- TC Electronic g-system rack unit
- Sennheiser ew300 wireless unit
- Zakk Wylde overdrive (Methods of Mayhem tour)

- Line 6 POD X3 Pro Rack unit





Strings
- Ernie Ball .010-.052's with a .056 replacing the .052.
- Rotosound Blues 10-52 gauge guitar strings, but he swaps the .052 with a .056
- Dunlop Nylon .73mm/.88mm picks




Go to the next page for pictures of Padge's Guitar Rig.