Emppu Vuorinen is a Finnish guitarist, best known as a member of symphonic female fronted metal band Nightwish. He started to play guitar as a private study at the age of 12 and since then he has played in various bands including Nightwish, of which he is a founding member, Brother Firetribe and Altaria.

Let's look at some of the gear and equipment that has been seen in Nightwish guitar players rig.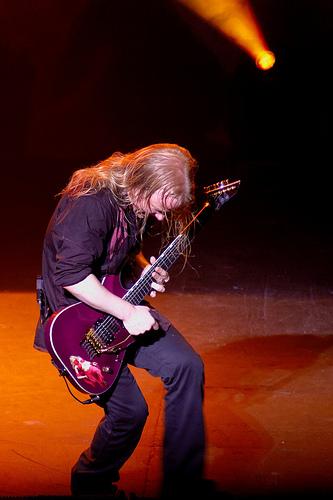 Click the gear images for more info and specs at Guitar Center and Amazon

Guitars
- custom made ESP Horizon signature model guitars
- ESP EV-1 with Seymour Duncan pickups (TB-5 in the bridge, SHR-1n in the middle and an SH-2n in the neck) 1 in purple and 1 in white. Note, the EV stands for Emppu Vuorinen.



- ESP Eclipse in Vintage Black

- Washburn CS-780 - white and purple guitars with golden hardware
- LTD MH-400 guitars


Here's a great video of a backstage tour of the music gear that the band NightWish uses in concert. The guitar tech shows off multiple ESP guitars. You then can see the Kemper Profiler rack amps. A Marshall 1960A cabinet is used on stage for "Feedback". You also get a great view of the Boss FC-50 pedalboard with the FS-5U pedal. A pretty simple, yet very flexible guitar rig!


Amps and Cabinets
- Kemper Profiler Rack Amplifier
- Mesa Boogie Dual Rectifiers


- Mesa Boogie Stereo 50 Amplifier
- Marshall speaker cabinets A and B's

- Bogner + Engl amps also used in recording (exact models?)

Effects and More
- Beyer Dynamics Opus 500 MKII Wireless
- Sansamp PSA-1 Rack Preamp
- T.C. Electronics G-MAJOR
- Jim Dunlop Cry Baby Volume/Wah
- Digitech Whammy XP-100 (newer version pic below)

- Boss FC-50 Midi Controller
- Boss FS-5U Tap/Tempo pedal

- Morley Volume/Wah pedal

- specially modified Boss MT-2 by Von Lehmann (CHINA SYNDROME)


Strings
- DR LT-9...42 gauge (for E-Tune Guitars)
- DR MT-10...46 gauge (for D-Tune Guitars)
Go to the next page for pictures of Emppu's guitar rig.
Thanks to ceasol for the great picture of Emppu's nightwish guitar pedals. The picture of the pedals is Creative Commons Attribution-Share Alike 2.0 Generic licensed.
Click the image to enlarge it to fullsize in a shadow box.