Page 1 of 2
Sascha Gerstner is a heavy metal guitarist, currently with Helloween. Gerstner previously played in a band called Freedom Call until he met Michael Weikath of Helloween in 2002, and the rest was history. Sascha also runs G-Tracks, his own recording studio.

Let's look at some of the gear and equipment that has been seen in Gerstner's Helloween guitar rig.
If you have any more info, please hook us all up by leaving a comment.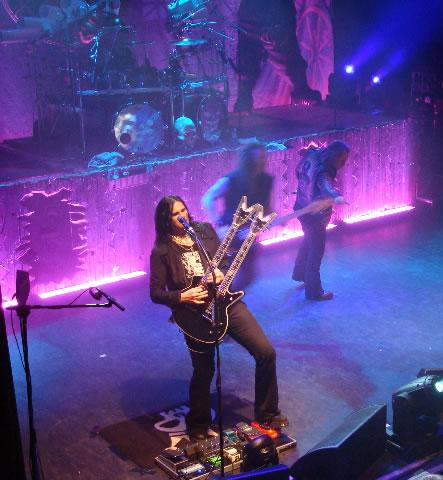 Click the gear images for more info and specs at Guitar Center and Amazon

Guitars
- Dean Cadillac Black/chrome guitars

- Dean Warbird US (Dimebag) (sledge model pic below)
- Dean USA Time Capsule Caddy Double Neck - custom made


Amps and Cabinets
- We aren't sure what he uses live for sure, but in his studio he has:
- Marshall head and cabinets
- Orange Head
- Engl head and cabinet




Effects and More
- T-Rex 12V Fuel Tank pedal power supply

- Sennheiser EK 300 / SK 300wireless receivers
- Snarling Dogs Wah Wah Whine-O pedal
- Boss Super Shifter PS-5
- ISP Noise Gate Decimator
- Ibanez Tube Screamer TS9

- Samson Wireless system: UHF Series ONE
- Vox Tonelab LE
- Boss TU-2 tuner



Go to the next page for awesome pictures of Sacha Gerstner's guitar rig.