Steve "Luke" Lukather is an American Grammy Award winning guitarist, singer, songwriter, arranger, and record producer best known for his work with the rock band Toto. Lukather has also released several solo albums and, as a studio session guitarist, has arranged, composed, and recorded on over 1000 albums.[

Lukather has endorsed MusicMan guitars and has a signature model named "Luke" that incorporates his signature EMG pickup system.

Let's look at some of the gear and equipment that has been seen in some of Steve Lukather 's more recent live guitar rigs (2006). Check Steve's site for lots more info.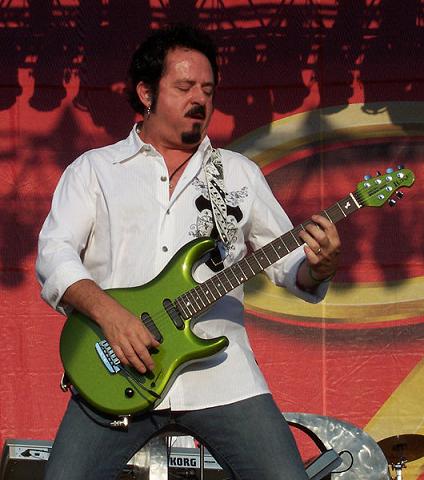 Click the gear images for more info and specs at Guitar Center and Amazon

Guitars
- Ernie Ball Music Man Family Reserve Luke guitars
- Ernie Ball Luke Guitars (green, blue, red, black sparkle and more...)

- Music Man Luke Signature LIII HH Electric Guitar


- Ovation Adamas, Acoustic Guitars, 6 string, black and red models
Pickups
- EMG EMG-SL20 Steve Lukather Prewired Pickguard/Pickup Set





Amps and Cabinets
- ISP Technologies Vector SL Steve Lukather 600W Active Guitar Subwoofer
- 3 Custom Audio 2 x 12" Speaker Cabinets
- VHT Power AMP - 62902
- VHT Power AMP - G2150-C



Effects and More
- Korg ToneWorks Tuner
- 2 Furman PL-Pro Power Plus Supply
- Dunlop Crybaby EFX DCR-ISR
- Custom Audio 3 SE Tube Pre AMP
- 2 Lexicon EFX PCM-70
- Line 6 EFX Mod Pro
- Custom Audio EFX GVCA-2 REV-3
- Custom Audio EFX Dual Stereo Mixer
- Custom Audio EFX Black Cat Vibe
- Custom Audio EFX Super Tremelo
- MXR Smart Gate Pro
- Custom Audio Patchbay
- 2 Custom Audio 4 x 4 Audio Control
- Boss Chromatic Tuner TU-2
- Custom Audio Midi FT Controller
- Boss FV-100 Pedal


Strings and Picks
- Heavy Teardrop Picks (brand?)

- Ernie Ball Slinky Cobalt strings (an Ernie Ball video shows the 10-46 gauge package)
- Ernie Ball RPS9 Slinky Strings 9/42 gauge
- Ernie Ball Regular Slinky Acoustic Strings 12/54


Go to the next page for awesome pictures of Steve Lukather's Guitar Gear.
The picture below of Steve Lukather's pedal board was taken by Thomas Finn who took the picture June 29th, 2008 and graciously gave it to us to share with the UberProAudio readers. Thanks Thomas!
A big thanks also goes out to stromo who graciously hooked us up with the picture of Luke's racks. Thanks stromo!