Page 1 of 2
Fredrik Thordendal is the lead guitarist and a founding member of the Swedish metal band Meshuggah. Thordendal also contributes to the songwriting for Meshuggah, as well as providing backing vocals in live performances.

Let's look at some of the gear and equipment that has been seen in the Meshuggah guitar player Fredrik Thordendal's guitar rig. His rig is pretty basic live without too much gear in the way. It appears he uses Line 6 heads direct into the PA (no cabinets).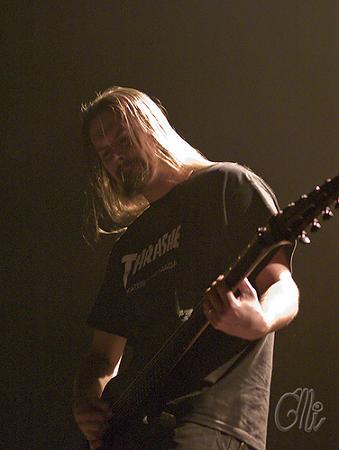 Click the gear images for more info and specs at Guitar Center and Amazon

Guitars
- custom 8-String and 7-String guitars made by Nevborn and Ibanez (ex: Custom RG7620)
- Ibanez 7-string acoustic
- Lundgren Model 7 and 8 pickups


Amps and Cabinets
- DAR Amplification custom amp (endorsed, summer 2010)
- Line 6 Vetta II Head Units (3-4 of them)
- No Cabinets live, Direct to PA.

Other amps (used on recordings, etc...):
- Marshall Valvestate 8200
- Mesa Boogie .50 Caliber+
- Mesa Boogie Dual-Rectifier

-Marshall JCM800 amplifier
- Marshall 1960A cab

- Homemade "Les Amp" Head Unit
- Homemade 1x12" Cabinet


Effects and More
- Fractal Audio Axe-Fx Ultra (appears he added this to his rig late 2008, and has mainly used this for his sound now)
- Line 6 POD Pro Rackmount units

- 33 MIDI Breath Controller (built by Johan Haake)
- Clavia Nord G2 Engine
- Digitech Delay Pedal

- T.C. Electronics Pre-Amp
- Rocktron Juice Extractor
- T.C. Electronics Chorus & Flanger



- Yamaha Breath Controller
- Volume Unit (Yamaha BC controls amount of volume that the unit will allow through)
- ADA Rackmount Delay



Strings
- Dunlop strings, Sizes 009-070

- Dunlop Nylon 1mm picks

- DR strings, gauges .009 to .060 (or .070 in the case of the eight-strings) -note: can't find any evidence that these gauges exist for DR strings, but this is what has been spread around the net for info. If anyone has more info on the strings he uses, drop a comment.
Go to the next page for awesome pictures of Fredrik's guitar rig.