George Lynch is a Hard rock guitarist best known as a member of the band Dokken. Lynch has been an endorser of ESP guitars since 1986 but has a huge collection of guitars and gear.

We'll give you a good rundown of what he has in his rig. Also make sure to check out our interview we did with George Lynch, he was one of the first Uber Pro Audio interviews! Interview: George Lynch - Q&A Session with the Guitar Sensei
If you want more info on his gear (he gives full descriptions on everything) take a cruise over to the George Lynch site. Note his rig changes on every tour so this list may not be complete.

Let's look at some of the gear and equipment that has been seen in George Lynch's guitar rig. If you have a favorite piece of gear that you know George has used and isn't on the list yet, feel free to add a comment.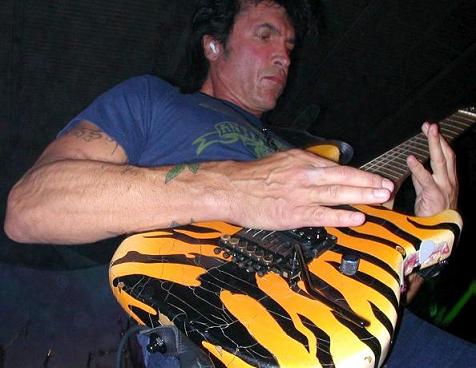 Click the gear images for more info & specs at Guitar Center and Amazon

Guitars
George has so many guitars. Checkout his site for the full list. We'll list some of our favorites here:

Tons of ESP guitars including:
- ESP Super V
- ESP Tiger
- ESP Kamikaze 1 guitar
- ESP Kamikaze 3 guitar
- ESP Serpent

J. Frog Guitars:
- Bones guitar
- Cowhide guitar

Charvel Guitars:
- San dimas
- Submarine

Gibson Guitars:
- Black Gibson Les Paul Custom

- Red Gibson Les Paul Special

- 50's Gibson Les Paul Gold Top (P-90 pickups)
- Gibson Hummingbird acoustic

- Gibson L4 acoustic
- Howard Roberts Acoustic/Electric

Other Brand Guitars:
- Amber and Whale Blue PRS Custom 24 guitars
- Ibanez Destroyer
- Kramer Barettas
- Tiesco Del Ray
Checkout George's custom built guitars - "Mr. Scary Guitars" - A full custom guitar manufacturing company with every guitar being designed and customized by George Lynch himself! It looks like Mr. Scary guitars are making some absolutely gorgeous custom guitars.


Amps and Cabinets
- Randall LB103 George Lynch Signature 100W Tube Guitar Amp
- Randall LB412 George Lynch 4x12 cabinet
- Randall Lynch Box Amp head (Brahma, Mr.Scary and Grail modules)
- Randall MTS Lynch Box Cabinet
- Randall Lynch Box combo
- Budda Superdrive 80 head (Let The Truth Be Known album)
-  ENGL Special Edition head (Let The Truth Be Known album)

- 1967 Marshall 50W Tremolo Head
- 1968, 1969, 1973, 1977 Marshall Super Lead heads
- Marshall JCM800

- Dirty Boy amp
- Zinky Cigarette amp
- Bogner Uberschall
- Diesel VH4
- old Orange head
- old Marshall P.A. head
- old 65 or 130-watt Music Man HD (sometimes for leads)
- Soldano SLO-100 (6th one made. Snakeskin tolex). He also has mentioned a Soldano Decatone

Effects and More
- Morley Limited-Edition Mini George Lynch Signature Dragon 2 Wah Effects Pedal

- Budda Wah (original version)
- Budda Zen
- Boss tone
- RMC Clyde Wah
- Fulltone The "69" Pedal

- Original Fulltone DejaVibe (first edition handmade by Mike Fuller in 1994)
- Fulltone Octafuzz

- Line 6 FM4 Filter Modeler
- Keeley Time Machine Boost

- Morley Bad Horsie Wah
- Electro-Harmonix USA Big Muffs
- Boss DD-5 Delay Pedal
- Boss DS-1 (Keeley Modded)
- Boss BF-3 Flanger
- Boss TU-12 tuner

- Germania H.B.E.
- Keeley Compressor
- Boss OC-2 Octave

- Boss SD-1 Overdrive

- MXR Phase 90 Script Logo
- Soldano pedal
- Sustainiac System
- T.C. Electronic Chorus/Flanger/Mod
- LastGain ART Laboratories Theremin
- Ibanez TS-9 Tube Screamer

- Digitech Whammy III and Whammy II pedals

- Seymour Duncan Screamin Demon George Lynch pickups



- Morley George Lynch Dragon Wah Guitar Pedal
- Morley George Lynch Tripler Pedal

- American recorder George Lynch Guitar Cables
- Lynch Time Machine Boost (hand-wired version)
- Spectraflex 1/4" Mr. Scary guitar cables
- Zoom G2G George Lynch Signature multiple effects pedal
- Cusack Screamer V2 with three position diode selector
- Vintage Mutron Octavider
- T-Rex Replica delay
- vintage Boss GE-10 10-band equalizer
- Boss CE-3 Chorus Ensemble

Strings and Picks
- The Dean Markley Super V strings were designed by Lynch
- Dunlop Ultex .73mm guitar picks