You know him from the Lynch Mob. You know him from Dokken. You might even know him from Souls of We.
George Lynch left a footprint in hard rock that nobody can ever forget. His masterful technique and finger-blistering solos continue to make him one of the most memorable guitarists of our time. And he's still jamming away with new albums and live shows coming up this summer.
George recently sat down with UberProAudio and discussed his legendary gear, upcoming album, and instructional dojo.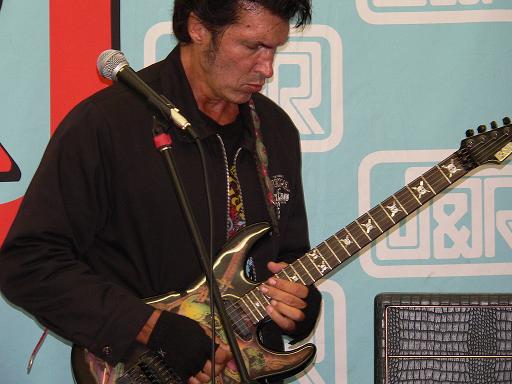 Note: Checkout our George Lynch Rig page for a full gear listing
UberProAudio: Thanks for talking to UberPro, George! Tell us about your gear. What are your favorite pieces in your current rig?

George Lynch: Randall Lynch Box, '68 Marshall Plexi Cab, and my ESP GL '56.

UberProAudio: You're playing a show with "Souls of We" at the end of the month. What live rig will you be using, and what tracks can fans look forward to?

GL: I'm using a combo of Lynch Box and the sixth Soldano Slo ever made. I'm also using my ESP bones guitar and Super V guitar, as well as a couple of custom B's I built recently.

We're doing the whole album except for "Under the Dead Tree," "Adeline," "Nork 13," and "St. Judge." We do "[Mr.] Scary and "Tooth and Nail," but we change it up and do it Souls' style.

UberProAudio: Any other live shows planned for this summer?

GL: Souls will be playing Hollywood Knitting Factory June 14 and then going back out in August into early September. Lynch Mob is going out in July and then again in September.  

UberProAudio: Give us the scoop on the "George Lynch Dojo," sensei – all we've heard is that it's an instructional site.

GL: We've completely revamped the concept behind the dojo. Starting July 1, it's a sixth-month course then ends until the next semester starts up in 2010.

Guitarists can access it through georgelynch.com. Students will receive a belt and certificate of completion for each semester.

UberProAudio: Seeing as you're giving lessons now, answer this – what guitar and amp would you recommend for a blooming rocker?

GL: There's so many decent sounding, inexpensive amps now a days. The Lynch Box student amp will be out soon. The advantage of that amp is you can swap modules and get completely different tones. There are four Lynch modules right now, with one more on the way. And Randall has another 30 modules available. 

UberProAudio: Explain to us how you created Dokken's "Mr. Scary."
GL: I just spent all night in the studio with the engineer. And by the time the sun came up, we had created a monster 

UberProAudio: We're hearing rumors about a new Lynch Mob album being released this year. What's the buzz?

GL: The new Lynch Mob album, "Smoke and Mirrors," will be released in August.

This is the Lynch Mob record we should have done after "Wicked Sensation." It's ballsy as hell, and Oni [Logan] is killin' on it. He moved to Switzerland so it's a hell of a commute. But it's worth it!

We got Marco Mendoza on bass and vocals. And Scott Coogan on drums from Oni's old band, Violet's Demise.

UberProAudio: Your official site says that the main recordings for the album are complete. Describe returning to Sound City Studios, a studio that hasn't changed in nearly 30 years.

GL: That was the first real recording studio I recorded at back in the 70's. They haven't changed a thing, thank god. It sounds warm and massive. We banged out the record in four days.

UberProAudio: Maintaining a steady presence in the rock scene for decades is no easy task. How have you adapted your guitar playing and style to remain contemporary in today's rock world?

GL: I think my style so weird that I don't have to adapt.

UberProAudio: On a similar note, what contemporary guitarists/bands have impressed you the most this generation? And why?

GL: I love so much music – huge variety of stuff. And, of course, lots of stuff from back in the day, too. 

Long of a list to run it all down – I like Jack White, I like Ben Harper, I like Meshugga, I like Brad Paisley. I'm all over the map.

But mostly I listen to liberal talk radio and read! Ha!

UberProAudio: You've endorsed ESP guitars for more than 20 years. What do you like most about them?

GL: I like the fact that they have six-strings, and they're really loud!

Just kidding – we're family. They've seen me go through hell and back and endure all the gyrations of the music biz. And we've been there for each other through hell and high water.

I have my own machine shop there with access to a spray booth. And I've been building my own guitars.

UberProAudio: Talk to us about your interest in bodybuilding. Still exercising regularly?

GL: Not really. I've sort of let that go.

It really didn't jibe with the music. I was working out so much I was getting cramps in my forearms every night and having a hard time staying dexterous for extended solos. 

UberProAudio: You've recorded dozens of albums. You've played hundreds of shows. Out of all of them, what have you liked the best and why?

GL: The one I just played at Angel's Roadhouse with Souls of We. We've got such an awesome group of guys – It's really fun.

We've been using Jordan [Mancino] from "As I Lay Dying" on drums. Johny Chow on bass from Cavalera Conspiracy. And Jimmy Wiggle on second guitar. And, of course, London Legrand on Vox!

We played a fucked-up metal biker bar in the desert at 1 am. It was funky, but we had a blast. Felt like I was back playing with my friends in high school for all the right reasons.

UberProAudio: What does the future hold in store for George Lynch? Another solo album, perhaps?

GL: That'll be next year. I gotta get through this one first!
Checkout what George is up to at https://www.georgelynch.com/
Interview by Alex M. Cole. Alex is an award-winning journalist and music fan.