Matt Bellamy is the guitarist, vocalist, and pianist of the alternative/progressive rock group Muse , known for his falsetto voice along with his guitar and piano playing ability.

Luckily there is some pretty good info out there about Matt's rig. Let's look at some of the gear and equipment that has been seen in Matt Bellamy's guitar rig.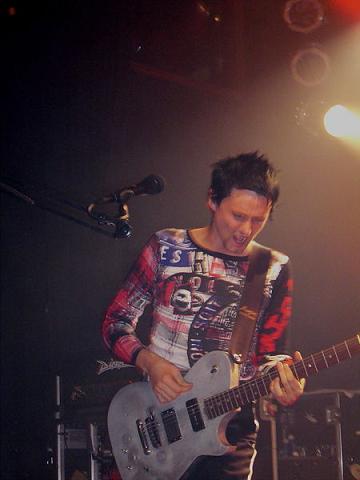 Click the gear for more info and specs at Guitar Center and Amazon

Guitars

Manson Guitars:
- Silver Manson
- Black Manson
- 7 String Manson
- Laser Manson
- Bomber Manson
- Mirror Manson
- Silver Bomber Manson
- Kaoss Manson
- M1D1 Manson
- New Delorean Manson
- Glitterati Manson
- Seattle Manson

- Ampeg Dan Armstrong Plexiglass
- Emex Londaxe
- Fender stratocasters
- Gibson Les Paul DC Lite
- Gibson SG

- Gretsch G1627 Synchromatic Sparkle Jet
- Ibanez Destroyer
- Ibanez Iceman

- Jackson Randy Rhoads (custom)
- JT-Res guitars
- Parker The Fly
- Peavey EVH Wolfgang
- PRS Billy Martin
- Taylors
- Yamaha Pacifica 120
- Gibson Les Paul Goldtop (model?)


Amplifiers and Cabinets
- Egnater M4 preamp with the following modules: VX, T/D, SL, and EG3/4
- Randall RT50 power amp
- Dickinson 2x12 Mk2 (used on Resistance. Also using a Dickinson amp on tour)
- 4  MILLS Acoustic Afterburner 412A guitar cabinets. Began using them Fall 2009. Thanks to Mills Acoustic for the update!
- Diezel VH4 amp

- Soldano Cabinet

- Marshall JCM 2000 DSL 100
- Marshall 1959HW 100-watt head

- Marshall 1960A Cab

- Marshall Mode 4 Cab
- Soldano Decatone
- Fender Twin Reverb

- Orange Retro 50 or AD 50
- Matchless amps
- Vox AC30 head


Effects and more
Note: Matt has some effects built into his guitars.

Built in effects:
- Zvex Fuzz Factory
- Zvex Wah Probe
- MXR Phase 90
- Roland GK-2a Guitar Synthesizer Driver

- Kaoss Pad
- Tronical PowerTune Automatic Guitar Tuning System


Pedalboard and Rack

Absolution/ Black Holes and Revelations

- Rocktron All Access Unit
- Korg Kaoss Pad
- 2 Ernie Ball Volume/Expression Pedals. (1 for volume, the other Whammy)

- Line 6 POD XT Pro

- Line 6 Echo Pro
- Line 6 Mod Pro

Showbiz - Origin of Symmetry

- Digitech Whammy

- Line 6 DL4
- Line 6 Echo Pro
- Roland V-Synth
- DOD Equalizer
- Zvex Fuzz Factory
- Electro Harmonix Micro Synth
- TC Electronic TC2990 Delay Rack Unit
- Shure UR 4D four-way wireless system
- Skrydstrup AS 4 amp switcher
- Muse Research Receptor
- ETA Systems PD11 Power Conditioner
- Nord Modulator G2 Rack Unit (Map of the Problematique)
- Kenton wireless MIDI receiver
More Effects update 2010 (see comments for details)
- Liquid Foot Pro
- MXR 6-band EQ

- TC Electronic G-Major
- Keeley Fuzz Head
- 2-knob Keeley compressor
- Boss OC-2 pedal

- TC Electronic Stereo Chorus

- Comet Ray Gun phaser
- Boss FV-500

- Boss FS-5U momentary switch

- Boss Chromatic Tuner pedal
- Dunlop Crybaby rackmount wah
Vocal signal
- Neumann KMS 105

- Avalon VT737
- Sansamp GT2
- System 6000 reverbs
- TC delay
- H35000


Strings and Picks
-  Dunlop Tortex .73 yellow guitar picks with the Muse logo printed on it.
-  Ernie Ball strings gauges .010, .013, .017, .026, .036, .060. (low E is thicker than normal)


Go to the next page for pictures of Matt Bellamy's Guitar Rig.
Big thanks to Andy Hicks for giving UberProAudio permission to use a photo he took of Matt Bellamy's pedalboard (the one below with all of Matt's pedals laid out). Checkout his site at www.andyhicks.co.uk
Click the images ot enlarge them to fullsize in a shadowbox.