Joshua Homme is an American Rock musician and multi-instrumentalist. He was a founding member of the desert rock band Kyuss, and also as the founding and only continuous member of the hard rock band Queens of the Stone Age ( QOTSA ), in which he sings and plays guitar and sometimes bass. Homme co-founded and occasionally performs with Eagles of Death Metal as its drummer, and continues to produce and release a musical improv series with other musicians, mostly from the Palm Desert Scene, known as The Desert Sessions. Josh also plays in the super group Them Crooked Vultures with Dave Grohl and other musical greats.
Let's look at some of the gear and equipment that has been seen in Queens of the Stone Age Josh Homme Guitar Rig.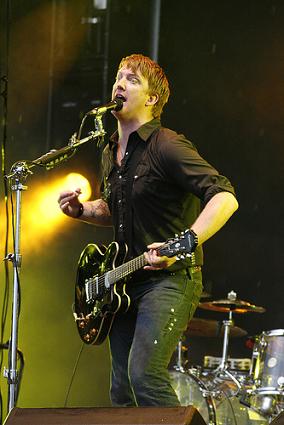 Click the gear images for more info & specs at Guitar Center and Amazon

Guitars
- MotorAve BelAire guitar
- 1984 Ovation Ultra GP guitars
- Fender Telecaster
- Gibson Les Paul
- Gibson SG

- Gibson Marauder Custom
- Maton MS503
- Maton MS524
- Epiphone Dot

- Maton BB1200 "Betty Blue" in Black, Blue, Red Wine and a Tobacco with Scroll Tailpiece
- Motor Ave Bel Aire - Black with Silver scratchplate
- Maton MS526 with Bigsby
- Maton MS500 12 String Homme Signature (Josh Homme's signature guitar)
- Gibson Barney Kessel Signature
- Yamaha SA503 TVL in Black (Troy Van Leeuwen's signature guitar)
- Teisco '68 V-2
- Ampeg Dan Armstrong plexiglass guitar
- Gibson 1956 ES-225
- Gibson ES-125 (3/4 scale)
- Gretsch archtop electric
- Lotus guitar (built by Andy Manson)
- Seymour Duncan Pickups: SH-1, SHR-1b (as listed on the Seymour Duncan site)

Amps and Cabinets
- Ampeg Vt-22 combos and Ampeg VT-40's with 2x12 cabs
- Ampeg V-4
- Vox AC30
- Fender Black Face Bassman amplifier
- Matchless Hotbox
- Sunn Model T
- Teisco Checkmate 25
- Greedtone JHI-100 amplifiers with matching RG212 cabinets
Josh has been seen using these amps and cabs with Them Crooked Vultures:
- Supro Sportsman head
- 1939 Gibson EH-150 (built in 12" and also run into 2x12 cab)
- ported Klear Sound plexiglass 4x12 cab w/Celestions
- 1938 Gibson EH-185 amp
- Gorilla Combo amps
Effects and more
- Boss tuner
- Electro Harmonix Bass Micro-synth
- Ernie Ball VP JR Volume pedal
- Boss SD-1

- Way Huge Aqua Puss (400ms analog delay - rare and expensive)
- old Morley wah
- Whirlwind Selector pedal

- Fulltone Clyde Wah
- Boss GE-7 EQ
- SIB! Echodrive
- Fulltone Ultimate Octave

- Maestro Stage Phaser
- Lovetone Meatball
- Dunlop Crybaby Q-Zone (from our research, this pedal is basically like a stationary crybaby pedal, so you can set it on one frequency and turn it on or off)
- Smart Peoples Factory Red Threat Distortion/Fuzz box
- Smart Peoples Factory Green Line Overdrive Pedal
- Electro Harmonix Small Stone
- Electro-Harmonix POG Polyphonic Octave Generator Pedal
- MXR Phase 90
- Dunlop Crybaby Classic Wah
- Herco flex 75 guitar picks
- Maestro Parametric Filter MPF-1 (said to have replaced with a Stone Deaf FX PDF-1)
- Roland RE-20 Space Echo
- Moogerfooger Ring Modulator

- Moogerfooger low-pass Filter

- Little Labs IBP Analog Phase Alignment Tool
- Electro Harmonix Octave Multiplexer
- Black Arts Pharoah Fuzz
- Fulltone FatBoost

- Digitech Whammy pedal
- FUZZROCIOUS The Demon pedal
 Go to the next page for pictures of Josh Homme's Rig
Thanks to a supercool flickr user named kavita41 for giving us permission to display pedalboard photos that were taken at a Queens of The Stone Ages gig. Thanks Kavita! Check out the pedalboard pic below!
Click the image to enlarge fullsize in a shadowbox.