Page 1 of 2
James Jim Root is one of the current guitarists for the band Slipknot. You may have seen them - they wear some feaky masks live onstage. Root shares the lead guitar duties with fellow bandmate Mick Thomson. Jim is also the lead guitarist for the popular band Stone Sour.

Let's look at some of the gear and equipment that has been seen in Jim Root's Guitar Rig.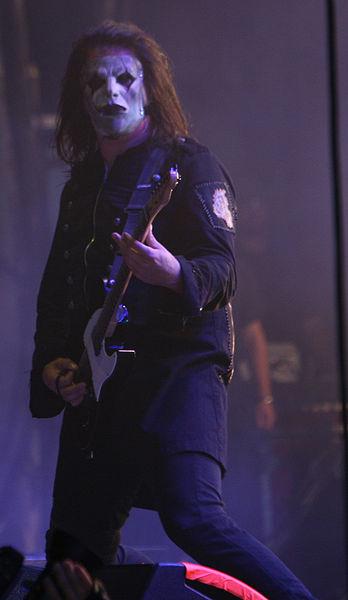 Click the gear images for more info and specs at Guitar Center and Amazon

Guitars
- Fender Jim Root Signature Series Telecaster (w/ EMG 60 and EMG 81 pickups, Strat-like pickup switching system, available in Black w/white scratch plate and maple fretboard and Vintage White with black pickguard and ebony fretboard) :

- Fender Jim Root Stratocaster with EMG pickups
- Squier Jim Root Signature guitars
- Fender Jim Root signature Jazzmaster Electric Guitar

- Fender Flat Head Telecaster HH Black (Main)(Custom model [2 vol knobs])
- Fender Flat Head Showmaster HH Black ("JR" on 12th fret)
- Backstage Custom Charvel San Dimas HH model built by Fender. (It has a traditional Stratocaster look, but a thinner neck and 2 humbuckers).
- Jackson SL1 Soloist Black guitar (In Slipknot Tour)

- Jackson SL3 Soloist Grey guitar (In Slipknot- IOWA Tour)
- PRS Private Stock Black (Based around the Standard 24) (In Slipknot- IOWA Tour)

- Maverick JR-4
- Fender H/S/S Strat with EMG pickups-all black
- Fender Custom Telecaster Flame Maple Top HH Black Cherry burst

- Fender Flat Head Telecaster Light Gray finish with one bridge pick up (played in late Stone Sour shows in 2003, i.e.: Rock Am Ring)
- Various martin acoustics
Notes: All jim's guitars are down tuned electrics to drop B and C# with the exception of when used for Stone Sour songs
- 1981 Gibson Flying V (black with white pickguard. Seen using summer 2009 tour)

- Gretsch Brian Setzer model guitar (clean guitar on audio Secrecy)
- Charvel guitars
- Fender Jazzmaster, no pickguard, EMG 81/60, hardtail (custom shop for him)

- Fender prototype strat, EMG 81/60
- Fender David Gilmour Signature Strat (relic)

- white Gibson Flying V (chrome EMG 81/60 pickups)

- Fender custom classic pro strat (custom shop)

Amps and Cabinets
 - Orange Rockerverb 100 & PPC 412 cab. Also Orange 40th Anniversary and Thunderverb amps. Orange cabs
- Orange Amplifiers Tiny Terror TT15JR Jim Root #4 Signature 15W Tube Guitar Amp Head

- Orange Amplifiers PPC Series PPC212 Jim Root #4 Signature 2x12 120W Closed-Back Guitar Speaker Cabinet

- Rivera Knucklehead Reverb 100 KT88 Tubes (Master Amp) and one with 6L6 Tubes (Slave Amp)

- Rivera 4x12 (Celestion G12T-75 Speakers) x2

- Randall ISOlation Cab ("the main sound from the front of the house is coming from a Randall Iso-cab that I've got a Celestion T-75 in" - Root)

- Mesa/Boogie Dual Rectifier

- Fender Mini Tone-master amp (for tuning)
- Bogner Uberschall (modded)

- Diezel cabinet
- Budda combo (used some on audio Secrecy)

- Vox AC30 combo and Bad Cat hot Cat (for cleaner work on Audio Secrecy)
Effects and More

Jim Root's Slipknot/Stone Sour effects:
- Audio-Technica AEW-R5200 Receiver
- Boss AC-3

- Boss NS-2 (he prefers older version with lead-based solder)
- Boss DD-3 delay
- Digital Music Corp. Ground Control Pro
- Digital Music Corp. GCX Switcher (Single effect pedals looped to GCX)
- Digitech hyper phase

- Digitech Synth Wah

- Dunlop JH-3S Jimi Hendrix Octave Fuzz
- Dunlop Crybaby Custom Shop DCR-2SR Rackmounted Wah w/ Expression pedal
- Electro-Harmonix nano Small Stone
- Furman AR-15 Voltage Regulator

- Korg DTR-1000 Rackmounted Tuner
- Maxon AF-9 Auto Filter
- Maxon OD-9 Overdrive
- MXR Auto Q Wah

- MXR Carbon Copy
- Voodoo Labs pedal power


- Whirlwind 4 channel multi-selector
- Audio Technica 4050 mics for live amps. "AT 4050 Microphones That's my main sound out front." - Jim Root

- Vox Tonelab
- MXR Phase 100
- Dunlop 535Q wah wah
 - MXR Micro Chorus
- Electro-Harmonix Micro POG
- Ibanez TS-808 Tube Screamer

- G-Lab QSC-3 Guitar System controller (2011)
- MXR Custom Comp pedal (used on clean channel)

- Boss Chromatic Tuner
- G-Lab True Bypass Wah pad

Strings and More
-Dunlop Guitar Strings
- Dimarzio Cliplock strap (black)






Go to the next page for incredible pictures of Jim Root's guitar rig.