Page 1 of 2
James Munky Shaffer was the nu metal band Korn's guitarist. He also performed live backing vocals.

He does have musical activities outside of Korn, though: he is the founder of Emotional Syphon Records, who have signed acts like Monster In The Machine and Droid.

James predominantly uses Ibanez guitars (his signature is the K7 7-string model) and Mesa Boogie & Diezel guitar amplifier. Munky describes his live pedal board as a "spaceship" because of the large, diverse quantity of effects he uses.

Let's look at what gear and equipment has been seen in the Korn Guitarists Guitar Rig.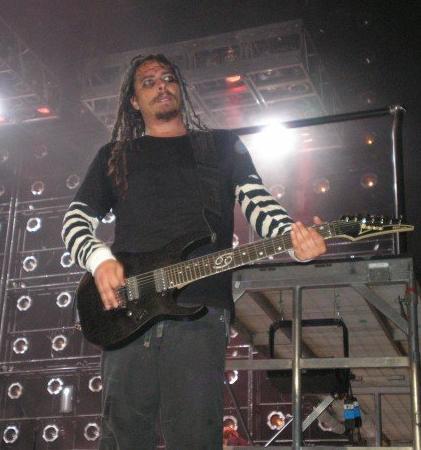 Click the gear images for more info & specs at Guitar Center and Amazon

Guitars
- Ibanez Apex100 Munky Signature

- Ibanez K7APEX2 (designed with Munky)

- Ibanez APEX1-BBK Munky Signature (2007 Model)
- Ibanez custom K14 guitar (used in the song Alone I Break)
- Ibanez custom RG8 guitar(2007 Ibanez model RG 2228)
- Ibanez custom K7 guitar
- Ibanez custom 7-stringed guitars
- Ibanez UV7BK guitar (Steve Vai signature)
- Gibson SG 6-stringed model (Tuned down to drop-A)

- Gibson SG Double-Neck

- 64' Fender Strat

- Ibanez GA6CE Classical-Nylon Acoustic-Electric

- Paul Reed Smith singlecut 7 string guitar (blackish - seen using in 2008)
- Gibson Buckethead signature Les Paul guitar (used in studio on "The Path of Totality")
- Gibson Les Paul BFG guitar (used in studio on "The Path of Totality")
- Fender Telecaster (used in studio on "The Path of Totality")
- old Hofner guitar (flatwound strings)
- Gibson lap steel played with EBow
- Hamer 12 string bass
- Origin 7-string custom guitar
Amps and Cabinets
- Mesa/Boogie Triple Rectifier Heads (one for clean one for Dirty)

- Diezel VH4 Four-Channel and Diezel Hebert Heads
- 3 Mesa/Boogie 4x12 stright-front cabinets loaded with celestion 75-watt speakers
(these cabinets are housed in flight case iso boxes and are mic'd from the inside)

- 3 Mesa/Boogie 4x12 stright-front cabinets loaded with celestion 75-watt speakers
(these cabinets are suspended under the metal mesh stage and angled upward for monitoring)
- Line6 amps
- Marshall amps (JCM900) and cabs (1960AV 4x12 cabinets)
- Marshall vintage Plexi amp (used in studio on "The Path of Totality")
- Bogner Uberschall (used in studio on "The Path of Totality")

- Vox AC30 (used in studio on "The Path of Totality". Clean Tones)
Effects and more
- BBE Soul Vibe pedal

- Boss DD-6 and DD-3 pedals
- Boss MT-2 Metal Zone
- Boss PS-5 Super Shifter
- Boss RV-3 and RV-5 Digital Reverb/Delay
- Chimera Synthesis bC9 mini analog synth
- Devi Ever Bit Mangler pedal

- Digitech XP100 Whammy Wah

- Digitech Metal Master Distortion
- Digitech synth wah

- DOD FX25 Envelope Filter
- Dunlop Univibe
- Dunlop Crybaby Wah
- Dunlop Cry Baby 105Q Bass Wah
- Electro-Harmonix Big Muff Pi USA
- Electro-Harmonix Electric Mistress Flanger
- Electro-Harmonix Memory Boy
- Electro-Harmonix Micro Synth
- Electro-Harmonix POG
 - Electro-Harmonix nano Small Stone Phaser
- Guyatone VT-X VINTAGE TREMOLO
- Ibanez Bi-Mode chorus
- Ibanez DE7 Delay/Echo
- Ibanez LF7 Lo Fi Filter Pedal
- Ibanez Tube Screamer DX
- Majic Box distortion pedals
- MXR Phase 90
- MXR Talk Box

- Pigtronix Gatekeeper
- Prescription Electronics Depth Charge
- Rocktron Banshee Talk Box

- X-Wire XR 905 Digital Wirless Unit
- Whirlwind Selector A/B Box

- Voodoo Lab Pedal Power
- Z.Vex Seek Wah pedal
 Mics
 - cabs miced with Shure KSM27, Beta 52, and Beta 56 in 2013+
Strings and Picks
- Dean Markley Custom gauge strings (for K-7 AND RG-7) (for K-14) (for Fender Strat and Gibson SG's)
- Dean Markley Alchemy Gold Bronze strings (for GA6CE)
- Dunlop Tortex Picks (think they are .73mm)
Go to the next page for more of Munky's guitar rig